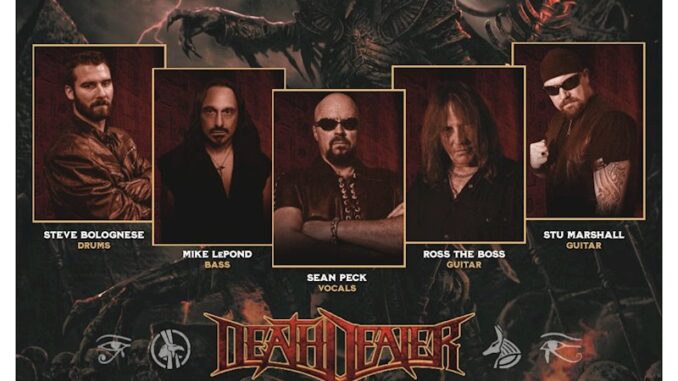 Album Review: Death Dealer - Conquered Lands
Reviewed by Paul Hutchings
When I was a teenager, I remember being completely bemused by Manowar. On vinyl, their music was just the thing. Bombastic, heavy, painting scenes of conquering armies, of a metal wave who could never be defeated. Then I saw the oiled cover of 'Battle Hymns'. Hmm. Not quite so sure. But the music, wow! 'Hail to England' and 'Sign of the Hammer' were anthems I could sing along to. And then I moved on. I got an older and songs about mythical battles with gold armoured warriors seemed a little bit absurd.
But no-one seems to have told Death Dealer that there are more interesting subjects to sing about nearly 35 years later. Ross the Boss's third album with his band is quite frankly ridiculous. 'Conquered Lands' is about as macho as you could get. Every song is a fist in the air heavy metal anthem full of the macho posturing that you would expect. A big, nay, enormous sound is the first thing you notice. The production is huge. Unfortunately, the songs don't match, being in the main a painting by numbers session of heavy metal songs with a reference point of about 1986.
If you want a cliché, this is the place to come. Grab a listen to 'Running with the Wolves, (which isn't going to go down well with most Birmingham football fans). An ode to their fans, it's full of awkward cringeworthy lyrics that really belongs three decades before. "Don't bring your girlfriend, or you'll go home alone" being the absolute pick. Quite frankly, this type of rubbish is embarrassing.
On top of that, the vocal delivery of Sean Peck is quite gratingly irritating. His high pitched falsetto really doesn't work. It sounds like he's inhaled a helium balloon before he started recording as he shrieks and warbles all over the place. The drumming of the wonderfully named Steve Bolognese is a rare highlight on this album, a total battery from start to finish. And the guitar work of Ross The Boss and Stu Marshall is solid.
But the songs are full of the sword and sorcery lyrics that Ronnie James Dio used to produce. Songs like the piercing 'Sorcerer Supreme', the Rainbow-influenced title track and the rampant 'Hail to the King' are all competently played, they just fail to spark anything apart from a dive to the off button. 'Slay or Be Slain' is a dramatic muscular slab of overblown heavy metal and I suppose if you enjoy Dungeons & Dragons then this may still be attractive to you. I defy, however, anyone to enjoy the dirge of the ballad '22 Gone'. A candidate for worst song of 2020. Most metal fans these days seem able to contemplate more stimulating themes. Still, if you are stuck in the same bedroom you were in 1985, then go get 'Conquered Lands'. You'll love it.