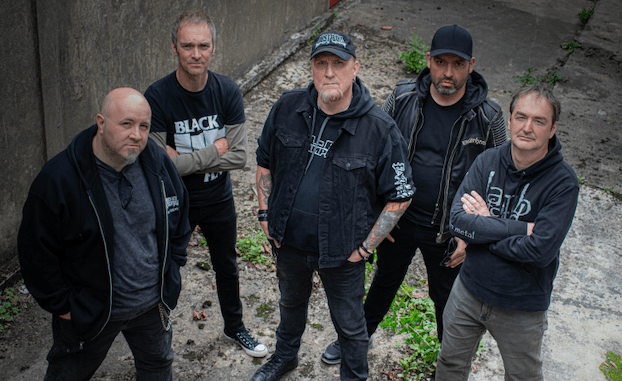 Album Review: Trapped In Purgatory - Damned Nation
Reviewed by Carl Black
Cut Trapped in Purgatory through the middle, you'll find the words THRASH, THRASH, THRASH. This album is steeped and ingrained in a music that refuses to die. From the very name of the band, to the harden riffs, to the hooky choruses to the album artwork, this could be no other type of music.
The band have risen from the ashes of an 80's English thrash band and the songs herald from that era. But don't write it off as a hark back and a nostalgia piece. This is no cover band. This is no thrash by numbers. It's a modern slice of thrash, with an incline to memorable riffs that stick in your head and refuse to leave.
The album starts out with an acoustic intro that descends into the hellish sounds of trench warfare. The guitar smash through and the double bass kicks off 'Hung Out to Dry'. The verse is vicious and the chorus is a stomper. It climaxes with a double bass frenzy that would have kids jumping from balconies and PA stacks for fun. Throughout the album Chris Neighbour's vocals snarl and sneer with a slight "wobble" in the pitch. It fits amazingly on top of Jon Hoare's bass and Marc Paling's drums. Andy 'Jock' Jamieson and Jason Coombs styles are suited incredibly well with a verity of soloing melodies over the top of gold standard riffs.
The album progresses in a similar vein through the ten tracks. I'm not sure, but I think there is a host of thrash metal Easter eggs hidden within. I'm sure I heard the phrases "Kill 'em all" and "Spreading the Disease" and I'm sure the ending to title track 'Damned Nation' is a classic riff, but I can't put my finger on it. It's like a 'Somewhere in Time', hidden in plain sight homage to thrash.
The execution is a little off at times but this adds to the rugged thrash nature of the music. The quality of the songs more than make up for any short fall. The title track and 'Beyond the Rubicon' really stand out. Whilst short and stubby 'Out of the Fire (Into the Pit)' takes you home.
A fine effort and one that all thrashers will love.