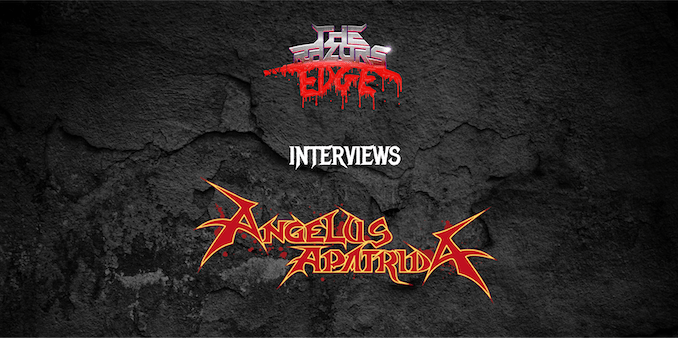 Interview: Guillermo Izquierdo of Angelus Apatrida
Interviewed by Tim Finch
Thrash fans! Angelus Apatrida are one of the biggest bands in the genre that you may not have heard of. Taking big inspiration from the genre's greats this Spanish act have been slowly building up a following over Europe over the past twenty years. In February they release their latest album, so what better time than now for The Razors Edge to take virtual trip to Spain to chat with main man Guillermo!
The Razor's Edge: Welcome to The Razor's Edge
Guillermo: Thank you so much.
The Razor's Edge: Life's been fairly crap for a good year now, so how are you guys holding up?
Guillermo: We're just doing the best we can. With this pandemic we are trying to get on with our lives since we can't go out on tour. We were working on this new album, so let's see what happens this year.
The Razor's Edge: Did the situation effect any of your plans for 2020?
Guillermo: Absolutely everything, we had a lot of plans and it was supposed to be one of the best years of the band. We were in the second year of the previous album and we'd finished 2019 touring in Brazil. We started 2020 touring Europe and we got like two or three more tours planned, we were booked for thirty festivals over the summer. It was going to be a crazy year.
Actually we decided to record a small E.P. at the start of the year because we thought we wouldn't have time for a full album. Then everything went to hell so here we are trying to survive the best we can and this is why our former E.P. became a full length album.
The Razor's Edge: I wanted to talk a little about your back ground. We don't often see many Spanish metal bands here in the UK. What is the metal scene like over there?
Guillermo: It's pretty good actually, since the 80's. After the dictator Franco died everything exploded here in Spain, a huge metal scene. We had a lot of heavy metal bands, all the bands in the 80's were singing in Spanish, so we had a good local scene with a lot of very big bands in Spain. Of course now there are more contemporary bands like Angelus Apatrida. I would say honestly the Spanish scene is one of the best in the world and every band wants to play in Spain. We have a lot of festivals, they happen in the summer and the weather in Spain is pretty good.
So I would say the scene is pretty healthy. Of course it's not very common for Spanish bands to sing in English. But that has started to happen and bands like us came along. I really want to invite everybody to know the Spanish scene and search out more bands and find and discover new music.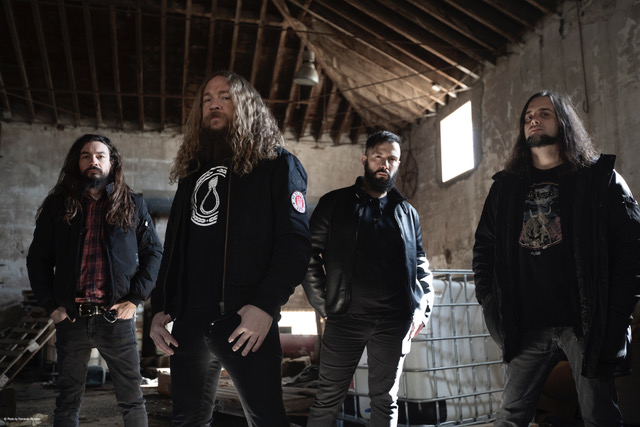 The Razor's Edge: You say you want people to discover new Spanish bands, have you got any recommendations?
Guillermo: Our friends from Barcelona they are called Crisix, they are awesome thrash metal and I would recommend a post-rock instrumental band Toundra they are amazing. And of course, my all time favourites from Spain they are called Soziedad Alkoholika, they sing in Spanish and they are hardcore/crossover I strongly recommend.
The Razor's Edge: And do you notice a difference when you come to places like the UK or the USA. Is the metal scene any different when you get here?
Guillermo: Yes of course. It's like the metal scene in Spain was younger. We've not been to the USA yet but we've been all over Europe and Latin America. The UK is more mature, more experienced, Europe is the same the heavy metal scene is very common. I don't know why, maybe because the Latin people are kinda of different, but we are very similar to the Latin American scene.
It's been a very long time since I've been in the UK and I can't wake to be back there. All the memories I've got from playing all the cities in the UK are incredible. To name a few; London is a huge city and the scene is super huge. But the shows in Manchester and Glasgow are my favourites of all time, and Cardiff too!
I can't wait to be back in the UK, please somebody take us back there!
The Razor's Edge: Do you feel like you are spearheading a Spanish heavy metal revolution?
Guillermo: No I don't think so [laughs]. The Spanish metal scene is exploding, but these days things are very different from the 80's, everything is globalised. But I'm happy we can start exporting bands and music like other countries have been doing for years.
The Razor's Edge: So your new album, I've had it on repeat all week. It's a stunning piece of thrash metal! Did COVID effect the recording and release of it at all?
Guillermo: Not the recording session, but the album itself. As I said before it was originally going to be an E.P. and it turned out to be a full length album because of the pandemic. During the summer months the pandemic was a bit better, we were more open, we could go back to the studio and meet each other, start recording and acting normally. I would say composing and writing the music during the hardest months of the pandemic made the album itself look a bit more aggressive and angry.
It affected it in a very good way and it turned out to be a good album, in my opinion. Some of the most aggressive songs we've composed. So yes it affected it but in the end its very good and something positive.
The Razor's Edge: You can hear how you have progressed and evolved from previous albums. Did you approach the writing and recording any differently this time round?
Guillermo: No, the way we work is exactly the same. I felt more influenced by the environment and everything that is happening in the world. It was easier to finish the songs. We also changed the tuning, we went half a step down in guitars and bass and it opened me in a new way of composing riffs. And of course the same for the lyrics and the focus. It's kind of a new beginning for us with a new sound we found accidently.
The writing sessions happened as always but somehow I think it was easier, but the recording session was harder than ever.
The Razor's Edge: The album cover is visually stunning. Is there a message behind that?
Guillermo: Not a message really. It was all an idea of Gyula Havancsák the artist, he came with this idea of doing  a still life portrait/picture with all  that kind of revolutionary stuff. He knows we always like to write about social issues and things that happen in society so he came with all these ideas, but there's no hidden message, it's just art. Of course you kind find different things from other albums and things in the picture. I can't wait to sit and look at it with the L.P. in my hand.
The Razor's Edge: As you've mentioned, you sing in English. Is there a reason you chose to do that rather than in your native Spanish?
Guillermo: Well the main reason for that is because all our influences come from bands singing in English. So when you start a band you want to cover your favourite bands and my favourite bands ever were Iron Maiden, Black Sabbath, Judas Priest, Sepultura, Metallica all those bands. So when I imagine myself doing my own band I always imagine singing in English, even for a Spaniard who doesn't speak English very well. So that's something I try to improve every year and I try to study and I get help with native English speakers on my lyrics so I try to write properly.
I think it's more easy to write lyrics in English because I think the Spanish language is a complicated language for music and I think English the universal language for music and it's beautiful. It's a musical language itself and Spanish isn't.
The Razor's Edge: I hear a lot of influences in your music, Testament being one that stands out but there are others too. Who's music has influenced your writing?
Guillermo: Hundreds of bands and a lot of different musical styles. In my case I would say Iron Maiden my favourite band and I think if you dig a bit more you can find an Iron Miaden influence everywhere. Testament of course, and all the bands from the Bay Area and I am also influenced by hardcore and the punk rock scene. So this time the situation was showing those influences. Especially in 'Bridge of Crown' you can hear that Testament vibe. I love the way Chuck Billy sings, I'm a huge fan of the way he was singing and the way he was dubbing the vocals, doing a normal voice and then dubbing up. I love it and did it a lot in the past.
Exodus is a great influence as well, Kreator, Sepultura, Judas Priest. I love it all. We know we are not original at all and we don't pretend to be, we just want to make the perfect band for us.
The Razor's Edge: Are you planning anything to mark the launch of the album? I guess usually you'd be hitting the road, but that's a bit restricted right now.
Guillermo: Yes we will try to do something. Maybe here in Spain we will be able to do socially distanced shows by the end of February. This is our full time job and it'll be ten months that we are not touring and not making money and we are almost in the red. It's getting really complicated for us. And of course it will be a waste of time if we release an album and can't tour it.
We're just keeping our fingers crossed the pandemic will be over sooner rather than later. Maybe thanks to the vaccination or whatever else happens. Nobody knows what is happening over the summer, all the festivals are keeping their line ups and selling tickets. I'm trying to be optimistic but I'm not sure the festivals will happen this year.
One way or another we will be touring this album!
The Razor's Edge: A lot of bands are jumping on the live streaming bandwagon. Have you thought about that?
Guillermo: Yes we did one, actually three. But one live stream in November with paid tickets. I think it's not a very good solution for this, at the end of the day you are just watching a screen and I understand fans don't like it.
During the summer of 2020 we did a couple of shows for Century Media and the European Metal Alliance and it was a lot of fun. I don't know if we'll do the same in the future. Its something that needs a lot of thought and a lot of money because you need a lot of cameras and things. In our case there was not enough tickets sold to cover our expenses. I just hope we can go back on tour this year and we don't have to do a live stream.
The Razor's Edge: As no one is touring at the moment, what are you doing to engage the fans and keep them interested?
Guillermo: We try to engage them a lot on social media, especially whilst promoting the new album. It's the only way we can say to everybody that we are still alive and we are still doing things. Of course I invite everybody to follow us on Instagram and Facebook because every week we are doing something new. We are planning to do a live Q&A live on Instagram and trying to have a good time with the fans.
The Razor's Edge: So finally, what's next for you as a band. Where do you go from here?
Guillermo: It's a good question… I don't know. We will keep on working a lot promoting the new album, even after it's release and we'll go out on tour as soon as we can. We'll try to plan a socially distanced show here in Spain, maybe we can put them on the internet for everybody. I can't wait to play the new songs.
I really hope we can get on tour as soon as possible and get back to normality.