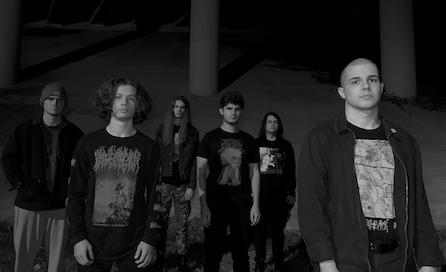 Album Review: Knoll – Interstice
Reviewed by The Papist
Knoll are from Memphis, a six piece with three guitars, one drummer, one bassist and the vocalist who does the power electronics! So from their own write up, Interstice is bristling with discordant aggression and oppressive atmosphere. The album cover is a nice black and white piece of images that looks like the music you are going to get, love it. So from this I put ear to the music and began... fuck me this is full on joy ride!
Okay twelve tracks, all songs around three minutes long and relentless in their delivery of bang on very extreme metal, tracks 'Door to Moil' and 'Myr' are a little different (power electronics), 'Myr' adds to the hit of 'Fjord Peaks' which is a joyous black metal smash at the end of the album. You can hear aspects of many genres within the whole work and they do it well. Vocals done in manner that suits the song and not overindulgent at all. From high screaming black metal to deep death growling that James Eubanks applies with absolute conviction.
Now from something like this you would not expect tempo changes and breakdowns, be prepared to enjoy every aspect of it when it happens. The three guitars deliver a massive sound, discordant in parts and with massive drum fills and brutal growling bass is just perfect. It is a complex album, the songs short and leave you wanting more. Close your eyes, immerse into it, and enjoy the journey it takes you on.
Highlights for me, erm the last song I listened too! No, is that not allowed?
Okay so 'Lambent Urn', 'Impetus in Mire', 'Earth's Iron Lung', and 'Loom Of Wills'. Each give different aspects of the entire album, and they just hit you like a sledgehammer.
This is their debut and I am going to love the next one whenever that appears! If you like it hard, heavy, with intent and complex then you will not be disappointed. It has got death metal, black metal, grindcore and hard songs that you won't need coffee for a week after listening to.
This is staying on my playlist!