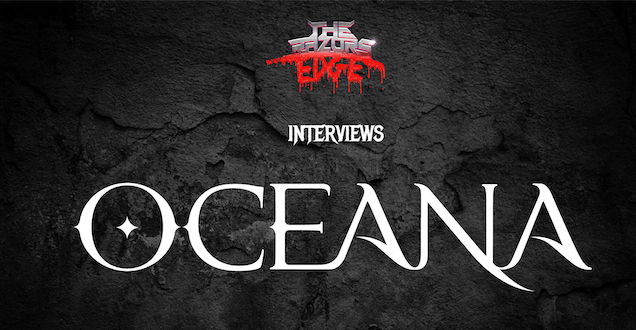 Interview: Massimiliano of Oceana
Interviewed by Paul Hutchings
Just a few weeks ago Italian progressive metal outfit Oceana released a blistering new album 'The Pattern'. At the time we described the album as "A magnificent 62-minute progressive record that displays numerous styles and influences. There are death growls, clean singing, heavy riffing, high harmonies, vicious riffs, and generous melodies.".
So Paul took the virtual flight over to Rome to chat with band mastermind Massimiliano to find out more.
The Razor's Edge: Hello and welcome to The Razor's Edge. Thank you for taking the time to speak with us. How are things in Rome now?
Massimiliano: Hello and thanks for having us on The Razor's Edge! 
Rome is slowly getting rid of the problems associated with the pandemic, we hope to get out of this situation as soon as possible.
The Razor's Edge: Oceana has been in existence since 1994. How did the band form?
Massimiliano: The band was born during the years of high school: we started hanging out together on the steps of Trinità Dei Monti in Rome, where a community of metalheads used to meet.
It is a very special place for us as much of the Roman undergroud metal scene was born right there.
The Razor's Edge: You've got a mix of influences in your music. Plenty of death doom and gothic styles. Who are the bands that influenced you?
Massimiliano: We can surely mention bands like Paradise Lost, Tiamat, early Anathema and Katatonia but also classics like Metallica, Megadeth, Dream Theater, early Annihilator and death metal monsters from the European scene such as Edge Of Sanity, early At The Gates, Dissection.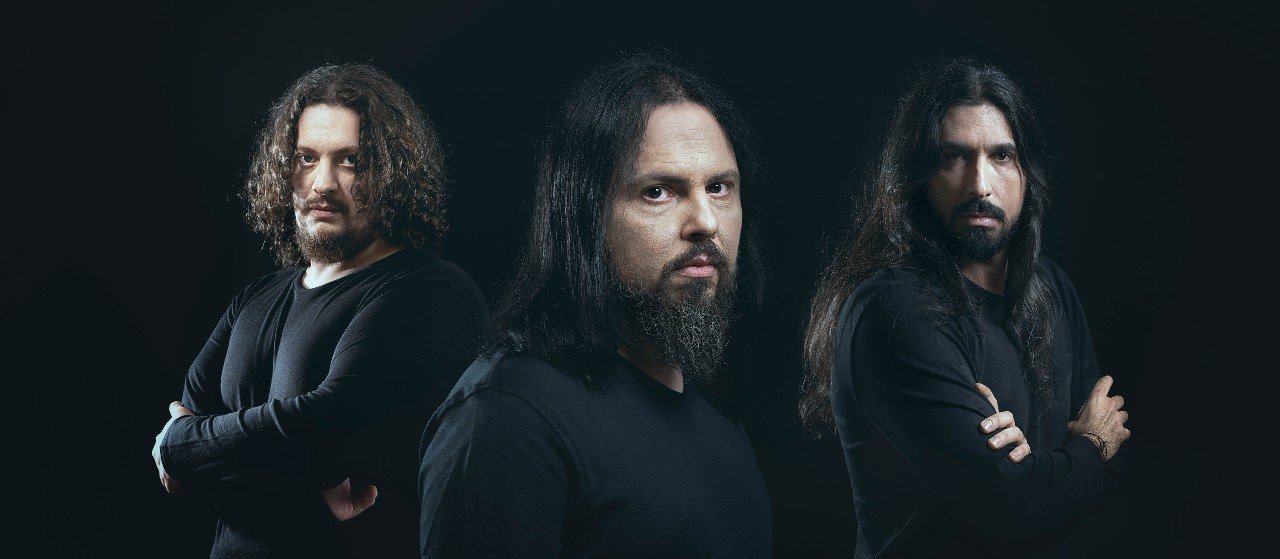 The Razor's Edge: You've just released 'The Pattern' which I think is your first full album. It's a beautifully crafted record – congratulations on it. I know that you have been a member of Novembre for over 20 years and that Gianpaolo plays for Stormlord. You finally got back to thinking about recording the album in 2019. Did it feel like the right time at last?
Massimiliano: 

First of all thanks for the kind words, we really appreciate!
It was a rather instinctive decision born, more from friendship than from a premeditated idea, we simply found ourselves at Massimiliano's house and after recording some auditions we thought it would be a shame not to release these songs.
The Razor's Edge: I know that some of the tracks on the album are not new – for example, the epic 'Atlántida Suite Part I' was originally written in 1997. Did you have to do much to ensure it was right for the album?
Massimiliano: 

Not so much, really…the song had a period of songwriting that lasted two years, which is why both the structure and the arrangements were already very accurate at the time and did not need further improvements.
The Razor's Edge: Bands around the world have been caught in the pandemic. What challenges did it present to you when recording the album?
Massimiliano: 

Luckily no challenges regarding recordings, as it took place before the advent of Covid19. The situation regarding the promotion of the album is very different: not being able to play live we were forced to limit ourselves to a promotion on social networks. We hope to be able to recover as soon as possible!
The Razor's Edge: What are the main themes behind the album?
Massimiliano: The idea behind the title "The Pattern" comes from our approach to
 themes such as the holographic universe, sacred geometry and, in
some way, quantum physics / mechanics: in particular, we were
 struck by the Hartmann network and the Curry grid, topics related to
geo-biology.
 We can say that there are areas (or "meeting points"
 between various energy lines) where, apparently, there are 
advantages or disadvantages if you want to live, stop in, build up or
 sleep, for example. On the electromagnetic level "something happens".
 The subject has intrigued us a lot since we noticed differences in
 psychophysical well-being based on where we was (a bit like
 described in "Feng Shui").
By linking certain topics to geo-politics, we enjoyed making parallels
with our society, finding curious and interesting ideas.
 We believe that there are places in the world where malaise is more 
present and others where mental and physical health is favoured. We 
cannot deny the existence of nations that are particularly in
 difficulty, just as we cannot fail to notice the tranquility and
 ideological balance of other countries.
 If we have to explain what the artwork in our album represents, we could
 say that we wanted to metaphorically describe a world in decline,
where the few survivors of a mass extinction (caused by wars,
 pollution, religious / political conflicts) find themselves gathered in 
prayer, under a huge Torii (sacred portal in the Japanese culture).
 We would like to clarify that we are not talking about a prayer in a
"religious" sense, but a real request for help from the "above",
 whatever it may be.
 We can say that there is no close link between the title of the album and the lyrics of the songs.
 Regarding the lyrics, "The Pattern" is a big container of subjects, for the most part concerning feelings, sentiments, psychological aspects, oneiric visions and things that happen in everyday life.
The Razor's Edge: How does your writing process work? Do you have a main songwriter, or do you all get involved?
Massimiliano: The songwriting process used in all our songs is very simple: it starts with riffs, chords sequences and structures on which melodic lines are superimposed.
 Almost always the idea starts from me and then the songs are arranged in the rehearsal room all together.
 This process has never changed over the years.
The Razor's Edge: You've included a cover of Metallica's 'The Unforgiven' in the album. What prompted you to choose such a classic song?
Massimiliano: We consider "The Unforgiven" one of the saddest and most melancholy songs of the entire Metallica discography together with "To Live Is To Die". We opted for the first one for reasons of duration. Besides being a great song, it has one of the best video clips we've ever seen!
The Razor's Edge: What other songs would you like to cover?
Massimiliano: A couple of songs are spinning in our heads: "The Carnival Is Over" by Dead Can Dance and "Young And Beautiful" by Lana Del Rey.
The Razor's Edge: You've got some heavyweight involvement in Dan Swano and Travis Smith for mixing and the artwork. How did you manage to get those two highly respected people involved?
Massimiliano: I had known both for some time because of their collaboration on the Novembre albums. Since all of us are huge fans of these great artists, it was almost automatic to turn to them. We have to consider ourselves lucky to have the opportunity to work with Dan and Travis and the final result, both in terms of sound and artwork, was mind blowing!
The Razor's Edge: Your sound is intricately crafted for a three-piece, and you use a blend of growls and clean vocals effectively. Were you always intending to use this style?
Massimiliano: 

Of course, yes! We immediately started alternating clean and harsh vocals and over the years this attitude has never changed. We don't want to deviate too much from our underground roots.
The Razor's Edge: Although you can't tour at present, you have played live as a band before. Do you intend to do so in the future?
Massimiliano: 

Absolutely yes! We can't wait to get back on stage and give our best.
The Razor's Edge: If you were able to play any venue in the world, where would it be and why?
Massimiliano: 

We cannot fail to dream going on stage at the Wacken Open Air: it is undoubtedly one of the most followed events by metalheads and boasts an excellent audio system and excellent professionals working within it. In second place, given our love for Japan, we would say the Tokyo Dome.
The Razor's Edge: 2020 was a devastating year for music but also saw some great music released. What were some of your favourite records of last year?
Massimiliano: "City Burials" by Katatonia, "Cycle Of Suffering" by Sylosis, "Spring In Blue" by SVNTH and "The Lost Boys" by Mauro Di Capua.
The Razor's Edge: And finally, what are the plans for the album launch?
Massimiliano: 

Unfortunately, it is difficult to predict what will happen. We can just cross our fingers and hope for a return of live music: in that case we would be ready to tour. Time To Kill Records, our label, is doing a great job promoting the album and we are grateful. In the meantime we are already working on the new album so that we can enter the studio in June. Our idea would be to release one record a year.
The Razor's Edge: Thank you for your time. We wish you every success with 'The Pattern'.
Massimiliano: Thanks a lot for this awesome interview and the support!