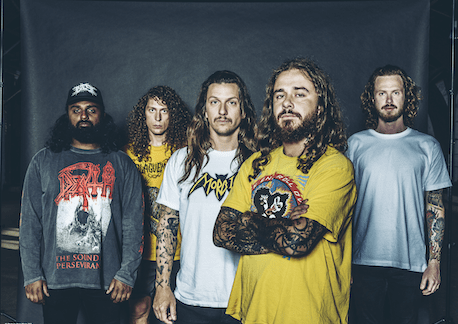 Baest Release New Single and Video for 'Genesis'.
Denmark' s Death Metal powerhouse BAEST release "Genesis" the new single from their upcoming album release "Necro Sapiens" (March 5th). With it comes a powerful live performance video - watch it HERE.
About "Genesis":
"When forging the foundation for a reign supreme, the genesis marks itself as the main suffocation of free thought. In five days and five nights, the Abattoir prepared their grand design, the grand comedy, their eternal source of power."
The band also launched a private Facebook group for exclusive Baest-content and regularly news.
The band comments:
"Necro Sapiens! You are the foundation of Baest. The lifestyle, the experiences, the good and the bad times. The challenges and the successes! We are proud to invite you to this club - the official Baest fan club, where we (Lasse, Muddi, Simon, Sebastian and Svend) will throw in some extra goodies, some gnarly looks into the engine room of the band. Or maybe the engine room of the bus, that surely will break down on tour ... Stay in contact with us, be the first ones to gain access to pre-orders, ticket sales, merch news and whatnot. Read the newsletter with personal notes from the guys. Stay in the family. We are one - we are none. Hail ye, Necro Sapiens."