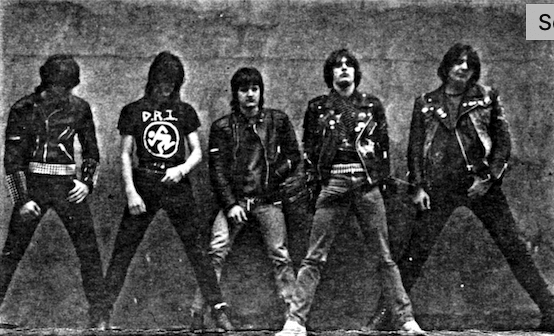 Album Review: Assassin – Holy Terror / The Saga of Nemesis (Demos/Re-Issue)
Reviewed by Paul Hutchings
This is one for the diehards and extreme collectors only. The Dusseldorf thrashers Assassin release their early demos following remastering by Patrick W Engel at Temple of Disharmony Studio.
It's long been argued that their early demos were of a higher standard than those that made it onto the band's debut record 'The Upcoming Terror'. Now is the time to compare notes. It's a challenge to do that with digital recordings as the original releases would have been on tape but that is the task.
'Holy Terror' may have been remastered, but this version retains the ferocious punk fused aggression that symbolised much of the German thrash music of the 1980s. 'Holy Terror' is raw. So raw that it was still twitching, the synapses still burning and muscles still flexing. The sheer intensity of tracks like 'Fight (To Stop the Tyranny)', 'Bullet' and 'Assassin' are wild, uncontrolled and simply relentless. Almost feral in its manner and approach and incredibly rough in quality, 'Holy Terror' is almost unlistenable in places. Its toilet quality production is a challenge. It's primitive but demonstrated the potential of the band.
1986's 'The Saga of Nemesis' saw the band slow things down a little. The influences of their countrymen in the burgeoning German thrash movement as well as the explosion of bands in the Bay Area are evident. 'Forbidden Reality' opens with a well-paced stomp but soon explodes into the kind of blackened thrash that we are now seeing in bands once more. The production quality of this second demo is higher, the playing tighter but still frighteningly aggressive. The return of a much polished 'Holy Terror', included on the first demo alongside the frenetic 'Speed of Light' highlights the improvements, although tracks like the average 'Nemesis' also indicated how far the band had to travel to catch up with the likes of Kreator, Sodom and Destruction.
Three years and two albums later, Assassin were no more. They reformed in 2005 and released some dire records until more recently with 2016's 'Combat Cathedral' and last year's 'Bestia Immundis'. This latest release shows the early roots of a band who have never quite gained a foothold in the upper echelons of thrash. Whilst some will lap up these early recordings, they are probably only of interest to the hardcore fans.