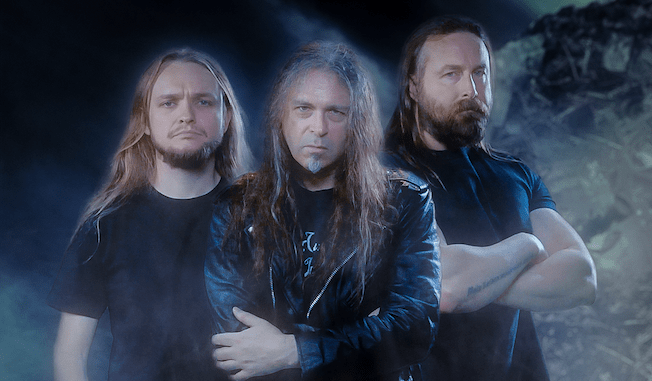 Album Review: Lord - Undercovers
Reviewed by Paul Hutchings
I would imagine LORD may not be that well known in the UK despite quite a history. Formed in 2003, initially as a solo project for 'Lord Tim' Grose of Australian outfit Dungeon, the band morphed into a full outfit in 2005 when Dungeon ceased to exist. So in essence, LORD is a continuation of Dungeon. The band has released five studio albums, the most recent being 2019's 'Fallen Idols'. The current line-up comprises Lord Tim, bassist Andy Dowling and guitarist Mark Furtner.
'Undercovers Vol.1' sees LORD release a large and eclectic selection of cover versions that the band have recorded throughout their career. Some are familiar and obvious covers, whilst others are much more curious and surprising.
21 tracks plus two from Lord Tim's Blackened Angel project is a large volume to steer through. There are pop songs, thrashers, and ample power metal staples. Opening with countrymen Savage Garden's 'To the Moon and Back', the best option is probably to settle in and enjoy the ride. A song that is likely to be familiar to most, LORD do at least riff it up a little. As the journey progresses, there is the odd track that brings a smile. The ferocious liver version of Metallica's 'Creeping Death', for example, is blistering and gets full audience participation.
The power metal of Helloween gets decent treatment, with covers of 'Someone's Crying' and another live track of I Want Out, whilst Lord Tim's vocal cords match the soaring operatic qualities of Russell Allen and Geoff Tate on versions of songs by Symphony X and Queensrÿche.
If you fancy a bit of classic pop music, there's a few tracks here to satisfy including a cover of the princess of pop, Kylie Minogue, 80s Danish trio A-Ha and the emotional bilge of The Cutting Crew's 'I Just Died in Your Arms Tonight'. Throw in Bon Jovi's 'Runaway' and it's a little bit 'Now 15!' all over again!
The two Blackened Angel tracks will sate the more traditional headbanger with a meaty version of the Anthrax classic 'Madhouse', whilst Dio's 'Night People' is a different and welcome choice.
Would I buy this record? Not a chance in hell. Would I listen to it on a regular basis? Unlikely, given the amount of material and choice around. Would I recommend it for a casual listen? Absolutely, because it is a fabulous exercise and demonstrates just how good LORD are. If you are a fan of the band, then this will be heading for the collection I'm sure. But for me, this is one to grab a drink, settle down in the armchair, or crank up on the 'phones when out and about and enjoy for what it is.