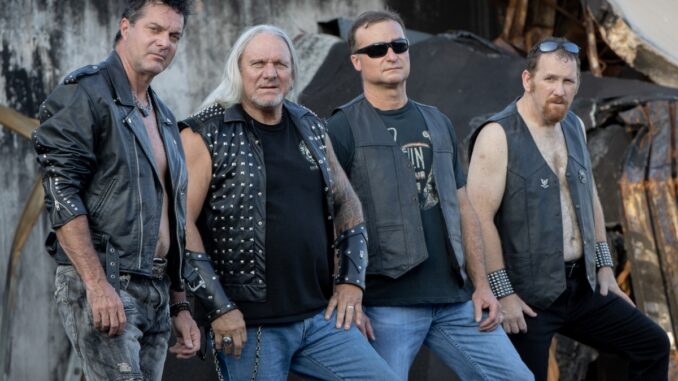 Album Review: Medieval Steel - The Dungeon Tapes
Reviewed by Paul Hutchings
In amidst the plethora of new releases that constantly deluge us daily, there often stands reference to the past and the origins of heavy metal. It's not always stellar in any shape or form, but it's always interesting to hear bands who existed four decades ago and whether their style influenced today's bands.
This compilation of tracks from Medieval Steel is just such one release. A collection of songs from the band's 1984 self-titled EP, along with a couple of tracks recorded in 1987 and three from 2004. Originally released in 2005, it's been given the remastering treatment by Bart Gabriel. Apparently, the band released an album in 2013 called 'Dark Castle', although that's not one on many radars.
The constant here is singer and founder Bobby Franklin who possessed a set of lungs made for the type of battle metal that the band play. A check on Metal Archives suggests that the rest of the line-up was a bit of a revolving door with a long list of personnel who dipped in and out of the band.
Unsurprisingly, the band have featured at festivals such as Germany's traditional metal festival Keep It True, where I am sure their retro sound went down a storm. And it is a retro sound indeed. Images of chainmail and animal hides, swords, loin cloths and the like all spring to mind, although it's hoped that the band are no longer considering wearing such garb.
The music is variable at best. Worst of the nine tracks is' Echoes', a horrific ballad that summarises everything that was bad about metal in the 1980s. The ponderous Medieval Steel features some quality lead guitar but not a lot else. It's all a bit Manowar lite in parts but there are some decent songs if you like your metal the old school way. 'Ghost From the Battlefield' for example, has some decent hooks and riffs, and Lost in the City captures an era in all its finery.
'The Dungeon Tapes' isn't an album I'll be rushing out to get. Given that it is remastered, one can only wonder how bad the original versions sounded, because this still sounds as if it was recorded underwater. A rather average release from a band who are solid but ultimately rather dated.