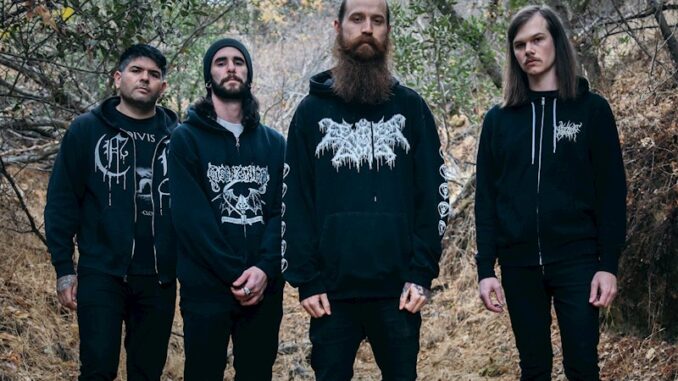 Album Review: Wolf King - The Path of Wrath
Reviewed by Neil Bolton
With a solidified line up Wolf King are back after their 2018 release 'Loyal to The Soil'. This new long player 'The Path Of Wrath' is a tale of existential struggles and the journey through life until ultimately facing death. Known for rich sounding blackened doom metal, Wolf King hope to capture some of the energy and bite from their live shows and lay it down to record through the skills of both Prairie Sun Recordings in Cotati, and Rapture Recordings in Hayward California.
'The Path of Wrath' begins with a doom laden instrumental intro; giving the listener cause to sit up straight and pay attention. There is feeling of something special already on the horizon and we are only one minute and thirty six seconds into this. 'Messenger of Death' is a speedy, thrashy black metal punch to the head and Tom Wilson's bleak black metal vocal style manifests itself upon the music. Growls spit forth and the tune slows a while allowing more of the doom to pour over you. The distinct vocals are mixed perfectly in this amalgamation of metal styles, there is no dominant force. The excellent music and vocals merge well giving a dirty touch to the music that conjures an atmosphere of old and a climate of new in the same track.
This powerful mix of doom and black metal is raw and welcome and has had quite a decent amount of air time through my speakers already. In this day and age music that can be varied, while carrying the same character is a welcome one. Forty minutes of blast beats and screaming is boring to me now, and Wolf King are a perfect balm for this.
Conner White on drums never just rests with noise, he has fills and skills to add to the nasty sound. Tracks such as 'Sanctuary' have a trad-metal feel, and also include my favourite, the vomit ough! The final track in this twelve track collection, is a six minute number to show all of what Wolf King can do in one little nugget. Jacob Broughton is happy to let other people shine, and then take his place in the light when required, equally bass player Brian Mojica has beats and skills to make the head of the most resistant fan bob their head, and throw the horns.
This is an excellent album, contained in an excellent album sleeve that assists in creating the ambiance and world Wolf King wished to create. The record is release via Prosthetic Records on March 5th.