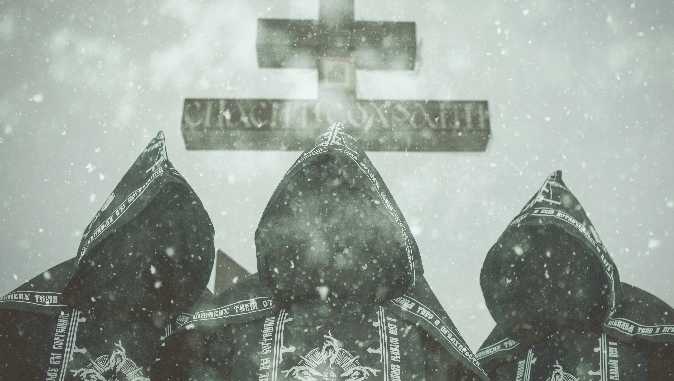 E.P. Review: Batushka – Царю Небесный (Heavenly King)
Reviewed by Danny Jewkes
Batushka; The hooded and robed monks of Polish black metal are back with another monstrous E.P. in the form of 'Царю Небесный' translated to. 'Heavenly King'.
Love them or hate them, it's becoming near enough impossible to ignore the power of Batushka right now. Taking the black metal world by storm one candle lit Black Liturgy at a time. And let's forget all about burning churches for a brief second, Batushka are building a new dark one of their own and smashing it to pieces with us all inside! It's not all about rage, fire and fury here though, there's room enough for reflection and a taste of melancholy within the barrage of beautiful noise and soundscapes they create.
Sat within a genre that I love, but one that can be pretty stale at times, Batushka offer a breath of fresh air and originality, while keeping the fiery elements of traditional black metal firmly rooted in place. Not only does the musicianship blow you away, but also the production is absolutely top notch! You really do get all the bells and whistles here. That being said, you cannot listen to this filth loud enough!
No black metal band is without its controversy. If you're unfamiliar with the back story of this band or the music they've put out so far, do yourself a favour and jump right into the fire. You won't be disappointed!
Batushka release 'Heavenly King' via Witching Hour Productions on March 19th