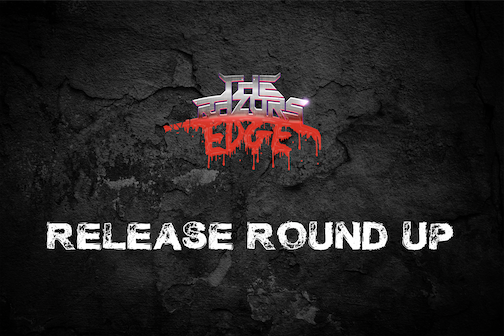 Release Round Up - June 17th, 2022
Every Friday there is a tidal wave of new music released unto the world. Whilst we try to cover as much as possible here at The Razor's Edge, it's not always possible to review everything. So each week on a Friday we'll round up some of the best new music available, some we've reviewed, some we haven't, but all worth checking out!
Theres a lot of new heavy music hitting the airwaves this week, everything from black metal, death metal, gothic metal, Stoner rock, doom, thrash metal and even some of your traditional heavy fuckin' metal!
Here's what we think you should check out today!
Power metal stalwarts Civil War unleash 'Invaders' on their tenth anniversary,
"Power Metal gallop, filled with bombast and soaring solos."
Read our full review here.
Urban punk duo Nova Twins release sophomore album 'Supernova' via Marshall Records this week.
"merges electronic dance beats with heavy slabs of grimy industrial rock."
Read our full review here.
A hot prospect on the British metal scene, Burner release 'A Vision of the End' via Church Road Records this week.
"an unstoppably hellish musical vision that isn't shy about dropping a big breakdown and the occasional hook into the mix."
Read our full review here.
Haken guitarist Charlie Griffiths releases solo album 'Tiktaalika' Via Inside Out Music this week.
"Flicks between calm, gentle passages, and thunderous tech death parts."
Read our review here.
Aptera drop a stoner/doom bombshell in 'You Can't Bury What Still Burns' this week on Ripple Music.
"an album that is punchy, full of attitude."
Read our full review here.
Spanish death metal merchants Ataraxy unleash 'The Last Mirror' via Dark Descent Records this week.
"You're forever on the edge of your seat wondering what the band will do next."
Read our full review here.
Essex metalcore ensemble Of Our Design drop new EP 'The Worst of Me' this week.
"their gruff guitar tones along with the booming bass create a heavy sound to shake you to your core."
Read our full review here.
Tech death masters Exocrine release latest album 'The Hybrid Suns' on Unique Leader Records this week.
"This certainly isn't for the weak hearted! Those with hypertension need not apply as this is brutal, technical death metal in its most extreme form."
Read our full review here.
Norfolk death/doomers Consecration release 'Cinis' this week.
"a nice breather in death/doom where there's no threat of being crushed by the tone of the record's soundscape"
Read our full review here.
With a new album due imminently, Soulfly repackage their original albums in a new boxset 'The Soul Remains Insane'.
"a constant conversation between old, traditional sounds and rhythms and new (nu) progressions."
Read our full review here.
And thats just the tip of the iceberg! Other releases today we think you should check out include...
Rock / Hard Rock / Classic Rock
Dan Reed Network - Let's Hear It For The King (Drakkar Entertainment)
Deraps - Deraps (Metalville)
Dulkwalk Chuck - Fired Up (WormholeDeath Records)
Fonzy and Company - Touche (Self-released)
Iconic - Second Skin (Frontiers Music SRL)
Ivy Gold - Live At The Jovel (Golden Ivy Records)
Jimbo's Garage - Jimbo's Garage (Inverse Records)
Little Bihlman - The Legend of Hipster Billings (Metalville)
Zombi - Zombi & Friends Vol 1. (Relapse Records)
Heavy Metal
After Evolution - War of the Worlds (WormholeDeath Records)
Deus Omega - Among The Dreaming Dead (Self-released)
Extinguish The Sun - Transformations (Self-released)
Sole Syndicate - Into The Flames (Scarlet Records)
Tailgunner - Crashdive [EP] (Self-released)
Vante - Vante (Dark Star Records)
Various Artists - Ziggy Stardust: 50 Years Later (Pale Wizard Records)
Wicked Stone - Synergy (Hard To Stay Quiet)
Death Metal
Exanimatvm - Sollvm Ipsa Mor (Pulverised Records)
Horror Within - Awaiting Extinction (Pathology Explicit Recordings)
Inexorable - Imperious (Sliptrick Records)
Teratoma - Purulent Manifestations (Avantgarde Music)
Truent - Through The Vale of Earthly Torment (Self-released)
Verberis - Adumbration of the Veiled Logos (NoEvDia)
Black Metal
Brutta - Brutta (Self-released)
Dinbethes - Balans (Babylon Doom Cult records)
Satyricon - Satyricon & Munch (Napalm Records)
Winds of Tragedy - As Life Drifts Away (Belfry Records)
Stoner Rock / Psych / Doom / Sludge
Barbarian Swords - Crusaders of the Apocalypse - The Return (Negra Nit)
Elektric Mistress - Chapter 99 [EP] (Self-released)
Oreyeon - Equations For The Useless (Heavy Psych Sounds)
Red Sun Atacama - Darwin (Mrs Red Sound)
The Swell Fellas - Novaturia [EP] (Self-released)
Valley of the Sun - The Chariot (Ripple Music) 
And the rest...
Caravellus - Inter Mundos (Rockshots Records) [Power Metal]
Gozer - An Endless Static (Trepanantion Recordings) [Post-Metal]
Grumpster - Fever Dream (Pure Noise Records) [Garage Punk]
Hundred Year Old Man - Sleep In Light (Consouling Sounds) [Post-Metal]
Oni - Loathing Light (Ironshore Records) [Metalcore]
Rancor - Bury The World (Xtreem Music) [Thrash Metal]
Tungsten - Bliss (Arising Empire) [Symphonic Metal]
Vatican - Ultra (UNFD) [Metalcore]
Vorbid - Paradigm (Indie Recordings) [Progressive Metal]
wędrowcy~tułacze~zbiegi - Trzy Siostry (Devoted Art Propaganda) [Prog Rock]