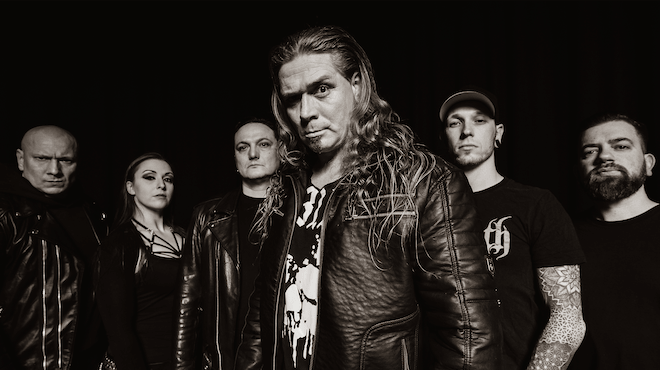 Album Review: Minas Morgul - Heimkehr
Reviewed by Paul Hutchings
For those with even a passing interest in Tolkien's Lord of the Rings, the name Minas Morgul will be familiar. Once the easternmost fortification of Gondor, it stood at the base of the Mountains of Shadow in the Morgul Vale. Taken by the dark forces, the fortress, once named Minas Ithil, was home of the Nazgul and used as the base for the attack on Gondor by Sauron's armies.
What may not be so familiar is the pagan black metal outfit that shares its name with the Dark Lord's stronghold. Minas Morgul formed in 1997, come from Frankfurt and 'Heimkehr' is their seventh album and follows 2017's 'Kult'. Minas Morgul have a revamped line-up, featuring Equilibrium vocalist Robse (Robert Dhan) providing the voice. He's joined by guitarist Haffi, and bassist Janko Jentsch in the debut stakes, whilst keyboardist Jennifer Berg returns for her second album alongside founder members Berserk on drums and Saule (Christopher Saule) on guitar.
History lessons over, what do we get in 'Heimkehr'? Meaning homecoming, the songs are drenched in symphonic keyboards that enhance but don't drown the tracks. The drumming is as frantic as you'd expect, battering away like a jack hammer through most of the songs whilst the dramatic tremolo riffing is intense. Robse's gruff delivery works well, matching the feel of the music.
A times the driving rhythms, blast beats that power through each song and the anthemic qualities of the songs conjures up images of the Dark Lord's forces emptying from their lair. Majestic soundscapes sweep in waves, the guitar work plunders like raiding Vikings. This is music to immerse yourself in, although I wonder if live these songs may suffer as they do on occasion blend into each other, as they do draw a similar feel and sound. But that is not to detract from 45 minutes of intensity that certainly doesn't offend. Songs like the reinterpretation of 'Väterchen Frost' from 'Schwertzeit' with its imperious feel and soaring vocals, the rampaging cascade of 'Teufel', all searing sonic black metal assault and the dramatic closing song, 'Epilog: Tiefe Narben' all contribute to an album that maintains enough variation despite my earlier comments to be one worth checking out upon its release.