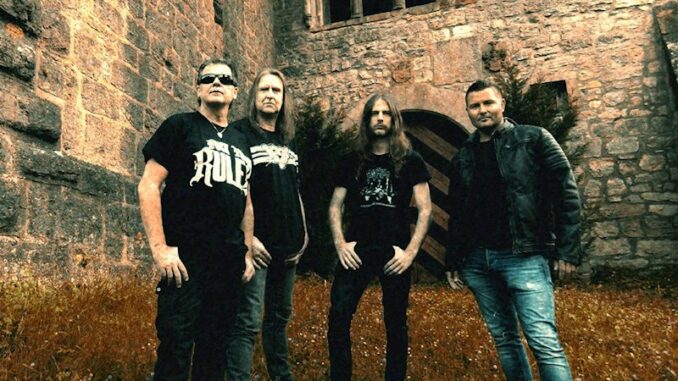 Album Review: Paradox - Heresy II - End Of A Legend
Reviewed by Richard Oliver
There are certain albums which have attained the status of cult classic. Albums that at the time of release maybe weren't popular or fully appreciated or just overlooked. The 1990 album Heresy by German thrashers Paradox is one of those albums with that near mythical cult classic status and is seen by many in thrash fandom as the bands finest hour. Paradox split a year after Heresy was released and although they reformed in 2000 the shadow of Heresy has forever loomed over the band. Now in 2021, Paradox have decided to try and revisit those Heresy days with a sequel to the album in the form of Heresy II: End Of A Legend. Vocalist and guitarist Charly Steinhauer (the sole consistent member of the band) is rejoined by a host of ex-members for the album including drummer Axel Biaha (Paradox co-founder who played on the first Heresy album), bassist Olly Keller and guitarist Christian Münzner.
Being that Heresy is a beloved album in thrash circles, Paradox must feel they have something to prove with this sequel album and that very much comes across in the music which is absolutely blistering. Paradox have always had a sound that borders on thrash and power metal but here things are very much on the thrash side of the fence. Although this is still melodic thrash, it certainly hits hard when it needs to. The riffs are crunching, the drums are pounding and my head is banging.
Songs such as The Visitors, Escape From The Burning and Burying A Treasure are determined to cause neck injuries across the globe whilst slightly more sedate compositions such as A Meeting Of Minds and Children Of A Virgin show the bands ability to mix melody and aggression in equal measure. The vocals by Charly Steinhauer whilst not the strongest in thrash serve the music well but the riffs he delivers make up for any vocal shortcomings whilst the solos by Christian Münzner will melt faces if sat too close to the speakers. The bass from Olly Keller is suitably pounding whilst the drumming from Axel Biaha is relentless and sounds like he is making up for all the years he has been absent from the band.
Heresy II: End Of A Legend is a fantastic album from Paradox and a must hear albums for all thrashers. It has the spirit of the original 1990 album whilst also managing to sound contemporary ably aided by a fantastic production job and mix. My one criticism is that for a thrash album this is way too long being 75 minutes in duration. The album could definitely have benefited from some trimming here and there but all in all this is a blistering release from Paradox.