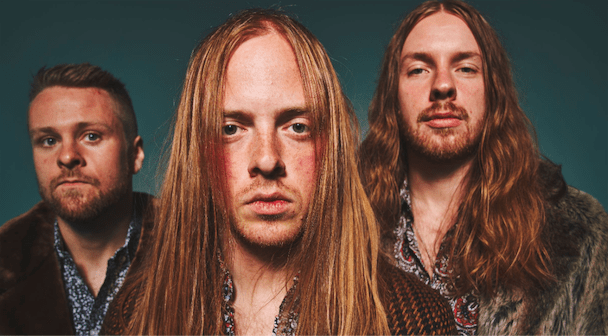 Album Review: The Vintage Caravan - Monuments
Reviewed by Paul Hutchings
For anyone who caught Opeth on their last UK tour, it's highly likely that you would have enjoyed The Vintage Caravan, who opened for the Swedes. The Icelandic trio, who comprise Óskar Logi Ágústsson – guitars, lead vocals, Alexander Örn Númason – bass, backing vocals and drummer Stefán Ari Stefánsson are ready to release their fifth album Monuments and it's once again crammed to the rafters with their mix of modern and classic psychedelic and progressive hard rock that'll have you tapping your feet and unconsciously moving, such is the underlying potency of their compositions.
After the stunning passion of opening song 'Whispers', we get taken on a meandering journey during 'Crystallised' with some fabulous bluesy guitar work from Ágústsson. And for the next 40+ minutes, The Vintage Caravan then sweep you off your feet and away on a journey that transports you into the clouds. Their head mix of hard rock riffs and diverse, yet retro sound rapidly wraps around the listener.
After some heady, rocky tunes we arrive at 'This One's for You'. A gentle ballad, this is well placed to allow a pause in the proceedings. I admit that my enjoyment of The Vintage Caravan is enhanced when the band throw down the gauntlet and the eight minute 'Forgotten', with its 'Highway Star' riff kicking things off is where the band do it best. A punchy, rampant track that allows freedom of expression and exploration, 'Forgotten' is a masterpiece and stacked in exactly the right place. The drumming is tight, the band on point and the experience enjoyable.
It sounds simple but capturing the intricate compositions is more of a challenge than might be expected. Thankfully, The Vintage Caravan are consummate musicians and 'Monuments' is a beautifully crafted piece of work. There's blues, even a funk style work out on 'Sharp Teeth' and the album is delightfully concluded with the soft, acoustic feel of 'Clarity'.
An album to be rightly proud of, The Vintage Caravan remain one of the brightest bands on the hard rock scene today. 'Monuments' is not a memorial but a statement of intent. Try it for yourself.