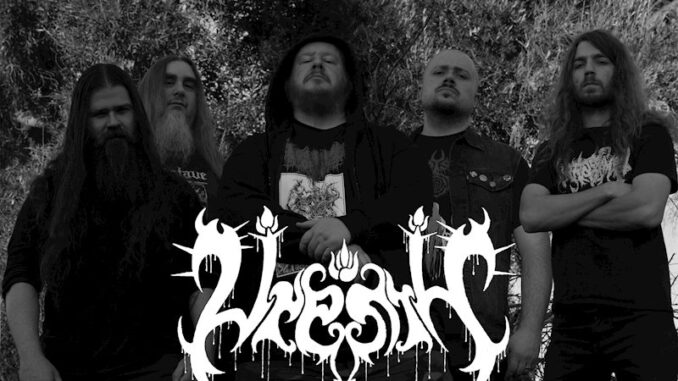 Album Review: Vrenth - Succumb to Chaos
Reviewed by Daniel Phipps
Southern California's cavernous death metal outfit Vrenth first hit my radar with the artwork to their debut full length Baptism Death which instantly got me to get my wallet out and pick up a copy. It was a fantastic slab of vicious old school death metal and the band have followed this up with a second slab of audio filth Succumb to Chaos. Oh and the artwork on this record is equally as cool.
Bursting out of your speakers with all the subtlety of a crowbar to the jaw, Succumb to Chaos erupts with a fury of savage old school death metal. The band offer dark furious riffs which have a massive Incantation vibe in their style. These whirlwind guitar parts dominate the album as each track rips and cuts through, as Vrenth add a sinister blackened touch to the riff composition, with a slight punk edge in places such as during the records opening track "Omnipresence (Mors Certa/Hora Incerta) which also offers some fantastic lead guitar work, which is found all throughout the record.
Now if you want some huge heavy doom riffs with your death metal well Succumb to Chaos provides these and boy they are huge in sound as they pound and crush offering that extra level of extreme heaviness to Vrenth's offering. Some of the stand out examples of these sections are found during the opening bars of "Curse of the Living and of the Dead" and final offering "The End As a Shadow" which set you up for the ungodly bludgeoning that Vrenth subject you too afterwards. The bands guitar composition is just a drop in the ocean and complimenting this is a truly powerful rhythm section which I feel adds so much to the album. The drums on Succumb to Chaos are straight up savage, as they rapidly smash through each track and offer that extra jolt of straight up power through the album. The bass isn't particularly audible but you feel it, especially during the slower sections you know it's there as those parts get taken to a whole other level of heaviness compared to the faster sections of tracks on the album. If that's not enough the tracks are topped off with some extremely raw low vocals which adds an extra layer of primitive Saverity.
Succumb to Chaos is an savage example of all out wretched death metal. It has great hooks and the lead work is exceptional when it's showcased. If you like your death metal raw and full of power, then Vrenth are going to be right up your street.