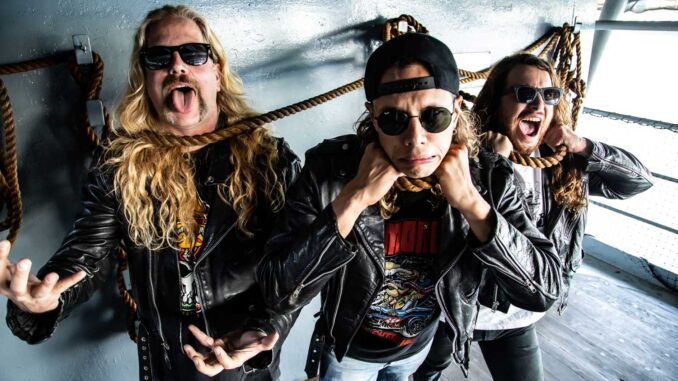 Album Review: Void Vator - Great Fear Rising
Reviewed by Jon Wigg
LA Trad-Metallers Void Vator's 2019 debut, Stranded, was one of my highlight albums of that year. A real mix of influences from Foo Fighters and Soundgarden to Iron Maiden. Megadeth and Monster Magnet. Add in a bit of stoner rock and shake well, it was a fantastic feel-good album full of killer riffs, differing tempos and great musicianship.
After their tour was cut short due to the pandemic, and the loss of their drummer who was forced to return to his native Germany, the remaining 3 members started work on their follow-up 'Great Fear Rising'. And an absolute banger it is as well. Faster and heavier than the debut, the influences are all still there, but the songs are more mature and better constructed, as the band grows and channels their frustrations into the songwriting.
The first few tracks have a real Foo Fighters vibe to them. The opener 'I Can't Take It' is a mid-paced stomper which takes that style, adds in a little Monster Magnet and Soundgarden and bangs along really well for a lovely start. 'I Want More' ramps up the heaviness and the speed for a party feel before 'There's Something Wrong With Us' has a fantastically heavy end section and some great solo work. 'Losing Control' continues the heavy and although the chorus is probably the weakest on this slab, it's a great song with some more killer riffs.
The title track kicks off the second half of the album and this is where Void Vator really shine. An opening reminiscent of Diamond Head's 'Am I Evil' gives way to some awesome thrash riffing and vocals. The solos soar and in particular the bass work stand out towards the end of the track. Party metal song 'McGyver's Mullet' continues the strong second half with harsher vocals and a fun vibe. This is a definite future live classic with chantable lyrics and hooks so infectious, they are guaranteed to get your fists pumping and heads banging.
After a brief instrumental, 'Poltergeist' injects some good old stoner rock into proceedings. The main riff is absolutely impossible to ignore and reminds me again of London's metal titans Orange Goblin in its style. This is another real crowd pleaser. Void Vator has saved the best until last. Closer 'Infierno' is a traditional metal track that ticks all the boxes. A slow opening gives way to a higher tempo and a lovely chugging riff that stirs the metal loins. The vocals are spot on and some well judged changes of pace throughout make this the highlight of a great album.
Formed of Lucas Kanopa on vocals and guitar, Erik Kluiber on guitar and Sam Harman on bass, Void Vator continues to be a shining light in the LA Metal scene. In 'Great Fear Rising' they have produced a second album of cracking tracks crossing various metal genres and adding in a modern feel. All of these tracks deserve to be played live, and 'Great Fear Rising' is definitely an early candidate for my top albums of 2021.