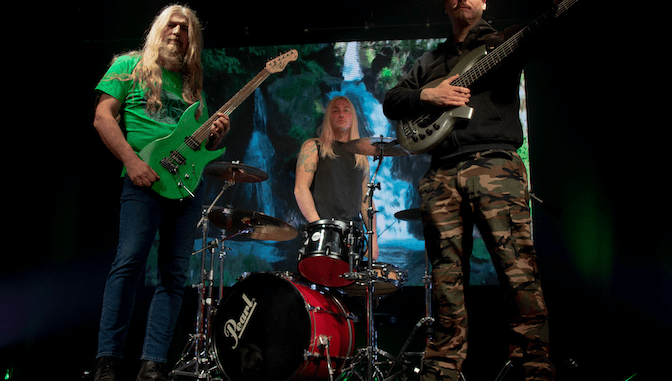 Album Review: Celtic Hills - Mystai Keltoy
Reviewed by Paul Hutchings
Formed in 2010, it took a decade for Italian trio Celtic Hills to release their debut album, 'Blood Over Intents' last year. Spurred on from positive reviews, the band have moved rapidly to produce their sophomore record Mystai Keltoy and it is one that grows on you after a couple of listens.
Badged as a cross of thrash and death metal, I'd be far more inclined to stick the power label tag on Celtic Hills because that's exactly the sound that they have captured. The opening duo of 'The Light' and 'Blood is Not Water' are both big, bombastic, and impressive with soaring guitar solos, imposing, anthemic vocals and an overall sound that demands your attention.
The lyrics on Mystai Keltoy are inspired by the history of the populations that inhabited the present-day areas of Carnia and Friuli, with a different twist. It's fertile history ground, and one that you can lose hours in exploring on the internet about the Celtic tribes that populated these areas in Northern Italy back in 400 BC and before.
One of the standout elements of this explosive and fiery album is the variation in vocal styles that guitarist and lead singer Jonathan Vanderbilt brings to the table. Alongside some exceptional bursts of frenetic guitar work, his sonic range is versatile in the extreme, ranging from almost operatic tenor to growling rumbles that shake the very bowels of hell.
Alongside Vanderbilt, Jacopo Novello on bass and Simone Cescutti on drums provide a rock-solid engine room with which to construct each song on. There's the unmistakable power metal of 'The Landing of the Gods', with additional harmonised vocals giving additional melody and power and the imposing 'Battle of Frigidum', an epic sounding piece that surely will become a staple in the live set, such is its gravitas and ability to paint that aural soundscape.
The tempo is high from the start, with only 'Eden' veering towards the lighter style, thick keyboards and ex-Aetherna singer Germana Noage's vocals bringing a more symphonic edge which provides a sweet contrast to the rest of the more muscular vocal styles that dominate the release. The closing song, 'Alliteratio' is sung in Italian which adds plenty to an already enjoyable album. With a solid production, thanks to the talents of Michele Guaitoli, singer of Temperance, Vision of Atlantis, and Era, this is an album that should appeal to those who enjoy their metal with a little spit and polish applied.