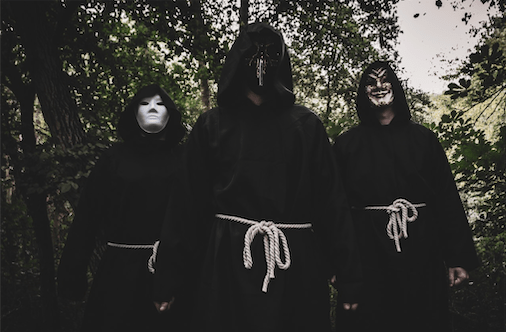 Album Review: Epiphanic Truth - Dark Triad: Bitter Psalms to a Sordid Species
Reviewed by Dan Barnes
Epiphanic Truth's debut is not a modern album. Or should I say, Epiphanic Truth's debut is not a contemporary album in that it seems to have no truck with pandering to popular trends or to make itself accessible to the Spotify generation who consume their music in soundbites rather than albums.
A running time of just-short of three quarters of an hour was parr for the course for a record back in the day, yet when you consider there are but three Bitter Psalms on offer here, each with a play-time longer than the preceding track, you start to get something of the idea of size of the musical behemoth we're dealing with.
As suggested by the title, Dark Triad is essentially a single piece of music divided by themes of psychopathy, narcissism and Machiavellianism – dangerous personality traits that pervade the modern world.
From the outset the whole of the album seeks to destabilise you, switching from the frenzied black metal attack to a more reassuring chug to a slow, doom-laden plod. The Truth of the Beast is the album's pre-release teaser track, usually the most commercial and accessible song from the record, designed to whet appetites and hook listeners in. Yet this Truth is accompanied by walls of noise and ambient passages and clocks in at a hearty nine-minutes-plus.
An Inescapable Verdict begins and ends with horns and runs through medieval, progressive and even free-form jazz moments. It harkens back to those days when vinyl was king and music was so over-wrought that bands were able to create multi-disc concepts where a whole side of an LP was given over to one track.
And the closing song: Our Vile Roots Flourish Beyond Light is a literal twenty-two minute epic of extreme metal that conjures wind-swept cliffs and waves breaking at the foot of ominous cliffs. As futile as it is to try to make references in connection to this, the closest approximation would be Opeth and Katatonia, when they blended their overt aggression with gentle moments, giving flight to dreams as their music swells. Listen carefully and you even be able to pull out a Dream Theater guitar line and one of Shining's blackjazz motifs.
Bitter Psalms to a Sordid Species is a Randonautic record - in that you enter into a contract with it when you press play and where it takes you and what you find there could be life affirming or it could be absolutely terrifying. Each time you play your journey will be different, depending on your own circumstance at the time of engagement; for Epiphanic Truth have constructed a labyrinthine musical adventure not for the faint of heart.
However, don't expect to see this on a stage at any point as Epiphanic Truth have confirmed they do not intent to be a live act. Sadly, the opportunity to experience this in the flesh seems to have been ruled out, which is a real shame as to engage with Dark Triads in such a visceral way would have been a challenging undertaking.