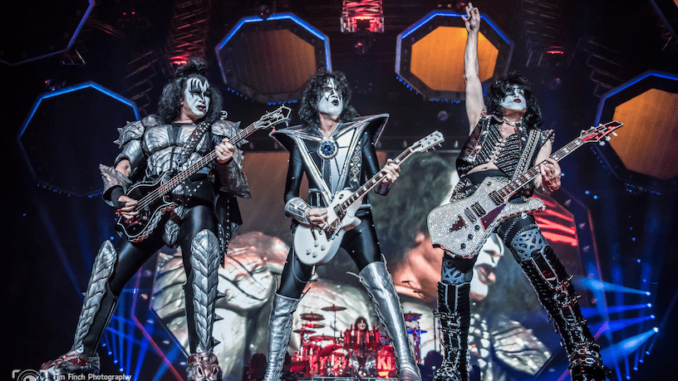 Album Review: KISS – Off The Soundboard: Tokyo 2001
Reviewed by Tim Finch
YOU WANTED THE BEST, YOU GOT THE BEST
Bootleg recordings of live shows are not a new thing, they've been around for decades and have spawned a whole community of tape/cd/dvd traders who collect thousands of recordings of live shows for their listening pleasure. It's a community bands like Pearl Jam and Metallica have tapped into in the past, both release vast swathes of live shows recorded direct from the soundbound making their quality that little bit better than the guy with the tape recorder in the middle of the crowd.
This week KISS jump into the fray with the launch of their 'Off The Soundboard' series and they start with a 2001 show from Tokyo Japan.
Now it should be remembered this is designed as a bootleg series, so it lacks the polish and production of your normal live album, but that is what bootleg collectors love. As the cries of "You Wanted The Best, You Got The Best" die down the band kicks straight into 'Detroit Rock City', 'Deuce' and 'Shout It Out Loud'. The normally reserved Japanese crowd lapping up the blistering performance the band offers.
It's a strong KISS set, what KISS performance isn't strong? Which includes a variety of their greatest tracks and of course the guitar and drum solo's we've become accustomed to. 'Firehouse', 'Calling Dr. Love' and 'Heavens on Fire' standing out mid set.
It's as the two hour recording nears it's end that the fireworks start, the drum solo leading us into a rager of a finale. 'Love Gun', 'I Still Love You', "Black Diamond' and 'I Was Made for Lovin' You' have the crowd rocking into set closer 'Rock & Roll All Nite', rounding out the two CD offering with a bang!
KISS are one of those bands that you know exactly what you'll get both on record and in the live area. It's a cacophony of sights and sounds to behold. This offering is one for the collectors, both KISS and of bootlegs. For the casual fan the unpolished soundboard recording, warts and all, may put you off. If you are looking KISS live album, then 'Alive!' or 'Alive II' are the places to go, but if you want the raw feel of a KISS show this record may just be for you.
KISS release 'Off The Soundboard: Tokyo 2001' on June 11th