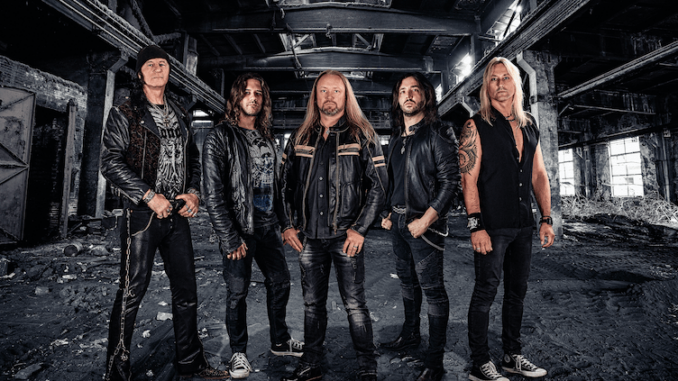 Album Review: Herman Frank - Two For A Lie 
Reviewed by Paul Hutchings
If you like solid, uncompromising heavy metal which the likes of Accept can produce in their sleep, then 'Two For A Lie', the fifth album by Hanoverian guitarist Herman Frank will probably be one to check out. I will admit to a strong connection with Accept. Their Teutonic metal style has been unwavering for over five decades and of course, Frank was a key part of the German outfit playing on 'Balls to the Wall' and then from 2009 until 2014 and his departure after 'Blind Rage'.
His previous two releases, 'The Devil Rides Out' in 2016 and 2019's 'Fight the Fear' were solid if unspectacular releases. I described the former as "average heavy metal by numbers". Well, 'Two For A Lie' may have just pushed the level up because this 43 minutes of blasting metal really is very enjoyable. It isn't ground-breaking but the musicianship is tight, the production as polished as one would expect and the songs are robust if occasionally lacking a bit in the memory banks.
Frank has once more stuck with his trusted personnel with vocalist Rick Altzi, of Masterplan, whose style remains an acquired taste, but I've warmed to them on this release. They fit the heavy metal style of the songs well. Alongside Altzi, Jaded Heart bassist Michael 'Mülli' Müller returns whilst new appointments are guitarist Mike Pesin and drummer Kevin Kott who both slot in comfortably.
Frank's guitar work is exactly as you'd expect. He's not flashy, but his solos contain passion and feel, melody and rich explorative moves. The tub-thumping opening track 'Teutonic Order' works magnificently, a fast-paced tempo and semi-thrash riff combining to deliver one of the more memorable songs here. Other tracks that catch the attention include 'Hate', with its fiery pace and battering drums verging on the kind of thrash that Heathen deliver with such style, the power metal speed of 'Hail the New Kings', and the penultimate song, 'Stand Up and Fight', which is incredibly reminiscent of 'Kill the King' by Rainbow, albeit at a slightly faster speed.
There is nothing to find fault with on 'Two For a Lie'. It's a robust, pacy and impressively played record, with ample classic metal style to enjoy. It won't match Accept's 'Too Mean to Die' from earlier this year, but Frank has previously shown that he can still write a mean metal track and this record demonstrates that he can still do that.