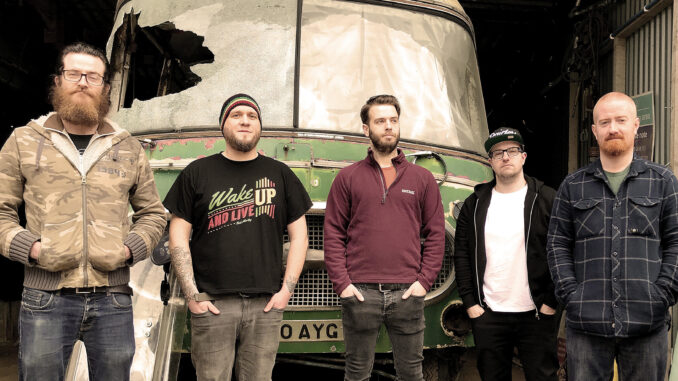 Boss Keloid Release Heartfelt New Single 'Smiling Thrush'
British heavy-prog band Boss Keloid have released their new single 'Smiling Thrush', a touching tribute that details the memory and pain of losing a parent. It's the second track to be released from their new album, Family The Smiling Thrush, out 4th June via Ripple Music.
Check out the new single 'Smiling Thrush' here:
'Smiling Thrush' sees Boss Keloid once again unafraid to tackle big life subjects, such as the death of a parent, and turn them into songs of soaring majesty and hope. Written by guitarist Paul Swarbrick as a catharsis for his own grief after his father passed away last year, the track gives an uplifting insight into the relationship they treasured. Throughout the changing kaleidoscopic mood of the music which represent the stages of that journey through grief, it's the aural equivalent of someone putting their arms around you and saying it'll be okay.
Commenting on the single Paul says:
"My father passed away suddenly last year. I'm very grateful to Alex and the chaps for giving me the opportunity to write the lyrics and dedicate the song to him. It has been the most challenging period of my life since his death, having to deal with previously unknown levels of grief, insecurity, confusion and anxiety. However, going through this period and process of writing the lyrics enabled me more than ever to reflect, be inspired and be extremely grateful of the relationship and bond I had with my father."
Family The Smiling Thrush is perhaps Boss Keloid's most ambitious album yet and demonstrates their biggest transformation to date. Entering a new realm which leans more towards the grandeur of monumental prog-rock whilst still embracing their metal edge, the album is a true masterclass in versatility. Seven towering tracks of emotional energy, psychedelic grooves and riff-oriented guitar work combine with the signature melodic yet passionate style that vocalist Alex Hurst has been tweaking and perfecting since their debut, Angular Beef Lesson, in 2010.
Produced and mastered by Chris Fielding at the legendary Foel Studios in Wales, the band entered the studio with a focus on gaining a clearer, more open sounding recording than ever before. The end result is a typically Boss Keloid gargantuan soundscape, littered with spacious jams and sticky grooves which twist and turn in euphonic harmony. Family The Smiling Thrush is their most attention-grabbing effort to date and only further cements their status as one of this era's most interesting and vital bands.
Lyrically throughout Family The Smiling Thrush Boss Keloid explore the notion of the collective being greater than the individual, embracing all flaws and the strengths of each. Each song burrows deeply into areas such as community, communication, family, personal growth, mindfulness and positive inner reflection, inviting the listener to not only join but truly revel in the journey of being alive.