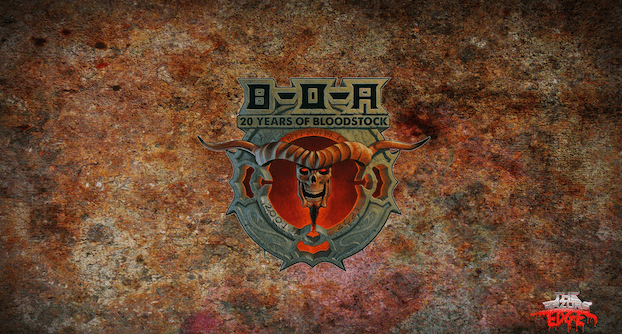 The Countdown Is On! 85 Days to Bloodstock Festival!
There's just 85 days left before BLOODSTOCK and more bands are locking in for 2021!
Regrettably, due to the ongoing Covid-19 situation, DIMMU BORGIR have been forced to postpone to 2022, but fear not, we welcome CRADLE OF FILTH onto the bill in their wake. Dimmu's management tell us, "Due to restrictions and uncertainties regarding international travel and logistics, we have to postpone DIMMU BORGIR´s performance at Bloodstock until next year. The band is absolutely gutted about this, having to cancel BLOODSTOCK again, but we have already confirmed with Vicky and the BLOODSTOCK team that the band will be back in the UK for the 2022 edition. Stay safe!". We look forward to welcoming DIMMU back next year.
BLOODSTOCK is also excited to bring you details for Wednesday, the extra day this year exclusively for weekend ticket holders. Once you've arrived and set up your camping area, over in the Sophie stage tent, there's a fun-packed evening lined up. British thrash legends, ONSLAUGHT are set to headline, with the bill rounded out by underground metal standard bearers, BEHOLDER, who will be playing their farewell show and epic-soundscape painters and M2TM alumni, WARD XVI. In a reshuffle, the ever-entertaining RAISED BY OWLS and progressive death metallers ANAKIM both move across to a Wednesday slot, from their previously announced Thursday.
BLOODSTOCK's party goblins have also been busy locking in a full range of after-hours fun at Catton Park. Once the bands are done each day, the entertainment in the big top Sophie tent borders on legendary, so be sure to rock up to Catton Park early on Wednesday, pitch your tent and get your beer on in time for the evening's proceedings. DJs ChunkRock & Miss Abraxas will be hitting the decks, welcoming everyone back 'home' for the Metal party of the summer! On Thursday night, there's a 'Wrestling' theme with the whole evening set to be livestreamed on the official BOA Twitch channel. BLOODSTOCK's 'Bear Pit' Twitch host and DJ, Ryan 'Bear' Mills will be slamming a wrestling-themed evening where capes, lycra, and war paint are encouraged. Will you be rocking the full Ultimate Warrior or Hulkamaniac look, or prefer the more subdued Road Warriors approach? Either way, prepare to win prizes and power pose to some kick ass tunes. On Friday (13th), naturally it's Horror Night, so BLOODSTOCK welcomes South coast rock/metal club titans, Apocalypse. Dust off the Elvira, Freddy, and Pinhead costumes and bang, whilst trying not to lose, your head. Saturday celebrates music through the decades, so join DJSoundwave as he celebrates the 70's, 80's, 90's and Naughties with a full-on mix of tunes from Abba to Anthrax and Disco to Deathcore. Closing out the 5-day weekend, the Apocalypse crew return with a Pirates Vs Vikings Party, so raise your horns to Odin or for Rum, with Crabulons and Robototrons also welcome.