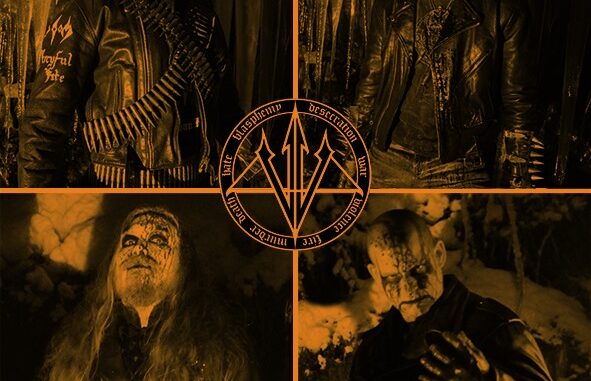 Album Review: Vulture Lord - Desecration Rite
Reviewed by Neil Bolton
A familiar horror voice introduces the listener to the second album by Vulture Lord. 'Desecration Rites' follows 2003's 'Profane Prayer', and is greatly anticipated. With members of Urgehal, Carpathian Forest, Beastcraft, and Endezzma pouring their diabolic talents into the very soul of this album, the war on light that Vulture Lord wish to undertake will be an endeavour worthy of song.
Indeed these songs begin in black metal fury with 'Bloodbound Malitia'. The guitars shred at your throat, the drums pummel your body and the vocals cause you bend the knee and worship at the alter of The King of The Bottomless Pit. The stunning album cover goes some way to inducing this state also.
'Stillborn Messiah' carries this theme on very well. The heavily blackened thrash is extremely well performed. Fast, vicious, full of hate and skill; the band never lets up its onslaught, and you do not wish for anything less. The track 'The Vulture Lord' has a hint of the traditional heavy metal in its bones, but still drips with black metal lyrics and intentions. Blast beats are not the only drumming technique on show; proving this band are both forward thinking and creative, and while they are not alone in this thinking, it is most welcome.
The destructive power does not wain even when the band slow down slightly and briefly. This powerful disfiguring metal does every thing a good black metal band of the modern era should do. Small amounts of other genres are present but never dilute the venomous attack of the black metal assault.
The closing number fades in with evil intent and head nodding desires. Once your head is bobbing in time the pace quickens once more and a Satanic embrace engulfs the mind. There is no restraint in this band, it is all out power and ungodly violence .
The album cover mentioned earlier is the atmospheric topping to a near perfect aggressive attack that pleases and entertains while being impressive and modern.
This is a declaration of war against light, one which you and your head will most likely follow!