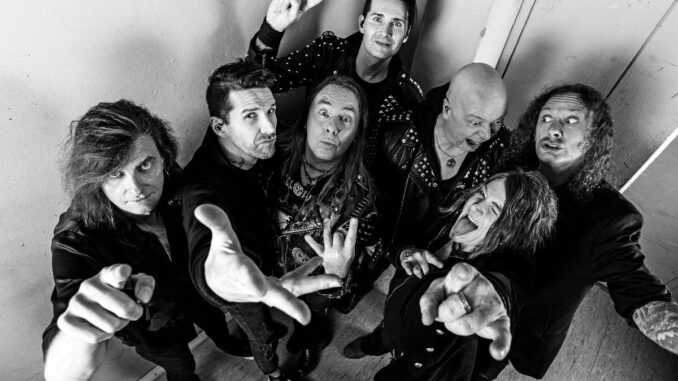 Album Review: Helloween - Helloween
Reviewed by Gareth Pugh
Judging by the recent chats and posts I've had and seen, my history with Helloween is much like many others, hearing 'Keeper of the Seven Keys Part I" was the starting point, an album that was a real genre bender, almost single-handedly starting the Euro-power metal scene and combining the best bits of classic metal, speed and thrash and adding a good dose of symphonic pomp and drama. Add a phenomenal young vocalist in Michael Kiske, who had been drafted in to replace Kai Hansen, so the later could concentrate on guitars. It was an album that I had on almost constant rotation at the time, and I even considered having a Pumpkin man tattoo! Part II followed a year or so later and was a slightly different beast, whereas Part I was a Kai Hansen dominated album not only in the song writing, but also playing wise due to an injury to co-guitarist and other main songwriter Michael Weikath, Part II was the opposite, with Weikath being the principal contributor. It was an excellent follow-up, despite adding more humour and a happier sound, and continued the bands rising popularity. But then things started to go a bit awry, founder Kai Hansen left to form his own group 'Gamma Ray', and the next album 'Pink Bubbles Go Ape' was a very strange affair, continuing the increased humour, and even having a song called 'Heavy Metal Hamsters',. Personally, I bailed, my brother bought it and I had one listen, and that was enough for me, thank god I decided against that tattoo! Kiske himself left after the next album, the very poorly received 'Chameleon', fired due to internal conflicts with Weikath and bassist Markus Grosskopf.
Since then I've pretty much been an observer from afar, I've caught the odd track, and been aware that they've been pretty prolific, releasing albums regularly, and too be fair, the songs I have heard were all pretty decent, but I've never had that inclination to check them out again properly. Then rumours started to circulate and noises heard, that there was some big news developing in the Helloween camp, and sure enough, in late 2016 it was announced that founding member Kai Hansen and former vocalist Kiske were re-joining the current members for a Pumpkins United World Tour together with an accompanying single 'Pumpkins United'. The single was a triumph, a heavy, epic, melodic 6-minute tour de force, utilising all three vocalists (Hansen, Kiske and current vocalist Andi Deris), with little nods to the past, and was everything any Helloween fan could want. The following tour was, if you were lucky enough to catch it, a fantastic experience, it was obvious that the band were enjoying every minute and performed tracks from all through the bands career.
I think that's where many fans thought it might end, but due to the success of the tour and the obvious chemistry between the members old and new they have decided to stay together as a seven piece, three vocalists, three guitars, bass and drums.
So how does this album, the 16th album of this ultimate metal super group rate? Well for starters the cover art by Eliran Kantor (Testament, My Dying Bride, Havok, etc.) is fabulous, evoking the old 'Keepers' covers but with little nods to others as well. 'Out for the Glory' is a suitably epic opener, wisely the band have chosen a track which mostly utilises Kiske as the main singer, and it very much brings to mind the 80s sound of the band, yet sounding modern and fresh. The chorus is simply huge, and Deris adds subtle little parts which nicely complement and enhance the track, although I was a bit surprised when Pointless' Richard Osman turns up for the spoken monologue in the middle [no not really, although it could be - you'll know when you hear it].
'Fear of the Fallen' sees Deris take a more upfront part of the action, channelling his inner Bono during the quieter parts, and it's Kiske's turn to compliment his vocal partner, taking the main role in the chorus. One of the biggest surprises I had with the album is that the relatively new guys, I say new, Deris has been with the band 27 years, and third guitarist Sascha Gerstner, 18 years, but these guys between them contribute over half the material, and yet it's their contributions that arguably add the more adventurous songs. None more prevalent than 'Best Time', which adds a bit of a swing vibe into the proceedings and is probably the track that best exemplifies the pure pleasure that the band are having.
'Angels' is another really good track, again with an unusual influence, this time it's Broadway musicals in the middle section. 'Rise without Chains' is maybe the younger brother to 'Rise and Fall' while 'Indestructible' brings to mind the enormous singles from the 80s, 'I Want Out' and 'Future World', and both songs have huge hooks and massive choruses. 'Robot King' is the most 'Jericho' like track and as such is probably the heaviest of the album, it's a Weikath penned epic, with a slightly darker feel to it than some of the other songs. 'Cyanide' was the only track which didn't quite resonate the same with me first time as the others on here, not that it's bad - far from it - in fact if anything it highlights how strong the rest of the material is, and it's certainly grown on me since.
'Down in the Dumps' on the other hand, is one that I liked from the off, mixing a heavy galloping riff, with multi-layered keys, and a soaring operatic chorus. Last but certainly not least is the mammoth 'Skyfall' with its separate intro 'Orbit', which interestingly are the only Hansen penned tracks. I imagine many of you have heard the edited 7 min single, well the album version is over 12 minutes, and is arguably the most 'Keeper' like track, bringing to mind the similarly length 'Halloween' and 'Keeper of...' itself. This is also the song which Kai himself is most prominent as a vocalist, taking the lead in the huge middle section.
Sound wise as you'd imagine, the record is absolutely top notch, long term producer Charlie Bauerfeind getting everything just right, the guitars have the required bite and crunch, and the bass is busy without dominating, and the drums sound punchy and clear. While each vocalist gets their own space in the soundscape, and that's possibly what's so impressive with Dennis Ward's mix and so much going on, never once does the sound get cluttered or too "busy".
I'm not a fan of self-titled eponymous albums, but this time it is absolutely fitting. The band have produced an album that draws the best from every era of the bands back catalogue and as a result is a massively impressive and cohesive piece of work. The way that the three vocalists work together, each part seems natural and there appears to be no ego involved. Add to that one of the strongest aspects of this album is the sense of sheer joy and happiness that permeates throughout. There is a real sense of spirit and camaraderie, and that is captured wonderfully, and makes this a real feel good album. Seriously I can't stop listening to it, and every time I do, I have this massive stupid grin on my face. That really says it all, music is supposed to evoke an emotional reaction, and this is one of pure joyful exhilaration.