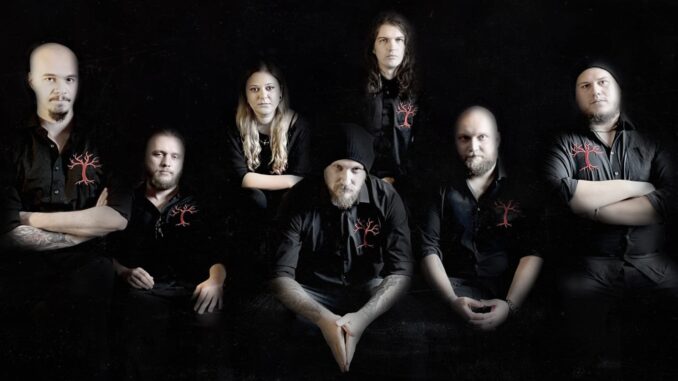 Album Review: Clouds - Destin
Reviewed by Paul Hutchings
Another day, another journey of discovery. This time, the sonic soundscapes of London based Clouds and their album 'Destin', part of a package of reissues by Personal Records. Having only been released in limited numbers by the band in the past, it seems appropriate to open the catalogue to those who may not have been on-board first-time round or who are unable to pay the high prices Clouds discography apparently commands.
Described as an atmospheric funeral doom, 'Destin' is as one would expect. Huge movements, switching between deep melancholy and soaring uplifting vocals, orchestral sweeps and crushingly heavy segments with guttural roars that could shake the devil out from the bowels of hell.
'Destin' is the third in the list of reissues having originally been released in September 2017. At 60 minutes in length, it's not an album to take lightly and really demands a listen in one sitting. Tales of grief and loss, sadness and pain all feature within the band's songs. Unafraid to use a combination of instruments, such as the mournful combination of guitar and violin which introduces opening song 'The Wind Carried Your Soul'. A slow but powerful tempo paving the way for some delicate female vocals, which contrast with the sinister gravel coated death growls. Casting images of darkness with shards of light breaking through, there is something hauntingly ethereal.
The songs are delicately crafted, passionate and emotive. 'Fields of Nothingness' transfers from darkened doom to brighter, hopeful elements, maintaining a massive heaviness thanks to the crushing riffs and overall intensity. Harrowing passages haunt the listener on 'Nothing but A Name', intricate guitar work weaving amongst the almost choking atmospheric elements. Subtle piano and keyboards provide a melancholic backdrop to haunting female vocals on 'In This Empty Room'.
This version also includes acoustic versions of 'You Went So Silent' and 'Even if I Fall'. The former is a beautiful piece, acoustic guitar, violin, and Daniel Neagoe's clean vocals working in harmony, the symbiosis between the three breath-taking in its simplicity and gentleness, the gradual fade out at the end working magically. 'Even If I Fall' delivers in similar vein before segueing into the final track, the 11-minute 'Errata', another emotion drenched masterpiece with sweeping soundscapes; this could be a film score such is its dramatic feel.
Daniel Neagoe, who created Clouds back in 2012 and who plays most of the music on the album as well as singing, has been able through the years to assemble members from the likes of Swallow the Sun, Shape Of Despair, Funeral and Pantheist. The combination of musicians on this album provides a musical kaleidoscope which is distinct, complex, and emotive. It's a substantial piece of work which one should invest time to absorb deeply. The rewards are rich.