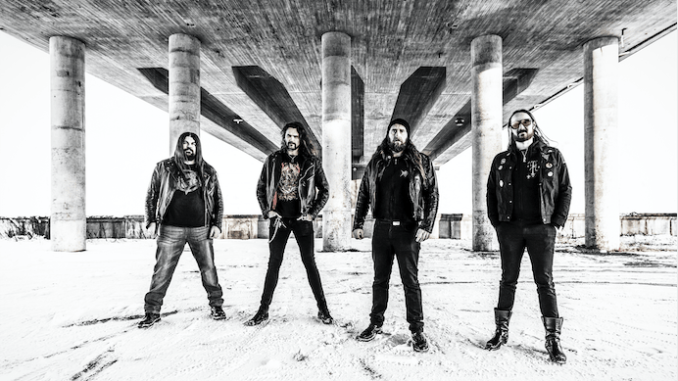 Album Review: Daemonicus – Eschaton
Reviewed by Matthew Williams
Like a phoenix rising from the ashes, old school Swedish death metal band, Daemonicus, are back after a 9-year absence, with the release of their third album, 'Eschaton'. The band first arrived onto the Swedish death metal scene in 2006, releasing several EPs and two full length albums, but after several line up changes and a hiatus, founding members, vocalist and guitarist PO Wester, and guitarist Jorgan Persson, are back to haunt your dreams with 9 blistering songs.
When people think of Swedish death metal, their minds inevitably move towards such bands as Entombed and Dismember, but with this new concept album, Daemonicus are reminding you of their many qualities, as they've produced an album that isn't going to win any prizes for originality, but it's a crushing blend of modern and old school death metal, that will get your head banging from the opening riff.
With bassist Martin Pudas and drummer David Ekevarn joining the band, the Swedish quartet are about to embark on a new era whilst remaining true to their core death metal values, and the musicianship on display across the songs is excellent. It begins with the blistering opening track 'To Poison Everything' which reminds you how four parts combined can make death metal sound both aggressive and melodic, and as opening tracks go, its pretty, pretty, pretty, pretty good!!
And just when you think the pace might slow down, up pops 'Reform or Die' which gives off real energy but with a rawness and edge to the track before 'The Double Edged Sword' comes along and picks the pace up several notches, as its blindingly fast, with a superb solo, full of ferocity before they slow it down, with a really heavy ending, creating an instant classic death metal song.
The next few songs, 'Heretic Trails', with some groovy death metal parts, the insanely fast 'The Grand Inquisitor' complete with chanted intro and 'Sacred and Secular' all hold their own and showcase the talents of the band with some sheer brutality juxtaposed beautifully with exquisite bass lines and melodies, but its track seven, 'You Know My Name' that really gives me that WOW moment.
Every part of it is just perfect, it has the right blend of pulsating drums, heavy old school death metal guitars, a hulking growling vocal performance and a killer bass line driving the song forward. It's a song that proves that if you get all parts of the song right, you don't need to reinvent the wheel to make old things better, and this song would proudly grace any album from the 80's and early 90's death metal scene.
'Fate Sealed Faith' has some very fast and brutal riffs before 'Termination' brings an end to what can only be described as one hell of a journey. From start to finish, Daemonicus have delivered an album of insanely high quality. The songs are mainly short and brutal, with the right blend of melody and viciousness to make you want more and more.