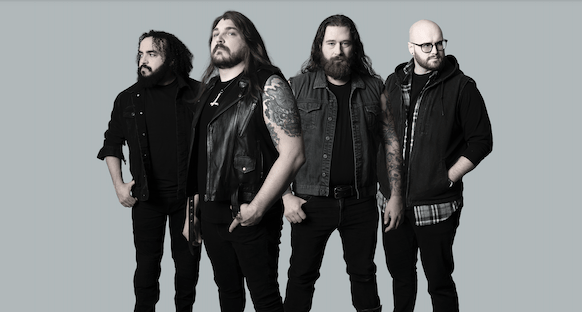 Album Review: Doctor Smoke - Dreamers and The Dead
Reviewed by Jon Wigg
Ohio rockers Doctor Smoke have returned with their second slab of goodness - seven years after their debut 'The Witching Hour'. An eclectic mix of styles, this is at its core a sludge/doom album but Doctor Smoke are difficult to put into a pigeon hole as they deftly switch genres across the album, and often within songs.
What is clear is the passion that the four members have for their craft. Vocalist/guitarist Matt Tluchowski has a voice that carries a very good range. He doesn't have a voice full of power that is often associated with this type of rock/metal, which can mean that in some of the heavier tracks the vocals do get a little washed away. His singing is excellent throughout however, adding atmosphere in other ways. His guitar partner is Steve Lehocky and they work as a great tandem with hooks for days and solos to get the blood really pumping.
The bass mix is nice and high which is good as Jeff Young really pounds the low range with skill and brings a nice roundness to all of the tracks. Cody Cooke's drum lines are perfect for these songs, simple and driving when they need to be, with some more complex and welcome fills added to great effect.
Tracks like the opener 'Reborn Into Darkness' demonstrate the switches in styles. Starting off as a modern metal track, the middle section has a groovy 70's hard rock feel. This gives way to 'These Horrid Things' which opens with a lovely deep fuzzy riff while the vocals are more 90's indie rock. Then the middle section is heavy with some nice swing with a lovely progressive riff. I'm not quite sure what's going on but I know I like it!
'Waking Dreams' is lighter in tone and opens with a slower pace. A fairly standard modern heavy rock track, there are some nice backing vocals to add to the excellent leads and a great solo. 'Out Of Time' is an old school 80's metal track. The main riffing took me right back to my teen years when Priest ruled this type of twin-guitar song. A definite highlight for me.
'Been Here Forever' brings the groove/sludge back with a really catchy chorus and this is followed by 'What Lies Beyond'. This starts with a more menacing feel, switching pace regularly, from a lovely calm mid-section which gives way to a killer solo and a stomping finish.
'Dreamers And The Dead' hits the listener in the face with an up tempo metal opening before a fantastic doom middle ups the heavy. 'Vexed' and 'The Rope' reminded me of the 00's with their introduction of the occasional pinched harmonic providing a more modern feel. Good songs but probably my least favourite on the album.
Closer 'This Hallowed Ground' returns to what, for me, Doctor Smoke does best. A mix of modern sludge and old school doom/fuzz, the changes of pace, immense rhythm lines and guitar work to admire, this is a great way to finish an excellent album.
Overall this album ticks many boxes for me. Fans of doom, hard rock, traditional metal, fuzz, sludge and biker rock will all find some great stuff here. The musicianship and songwriting are excellent with the members never settling into one genre, even within the individual songs. It's heavy and melodic and a welcome addition to 2021's growing list of fantastic releases.