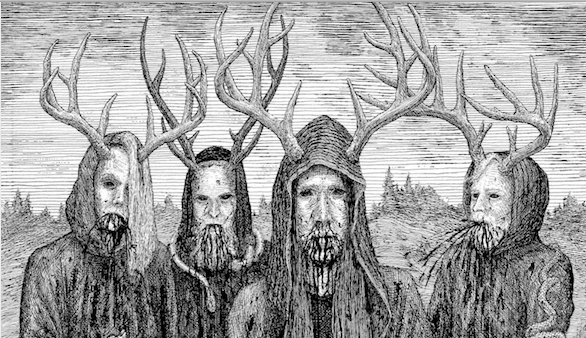 Album Review: Humanity's Last Breath – Välde
Reviewed by Robbie Maguire
As the short eerie opener 'Dodsnans' exceeds in creating mystique and unease through its crunch and heft Humanity's Last Breath reveal they are continuing their marauding yet trusted path of brutally savage, highly technical death metal. Indeed the scene and tone is set and a clear statement of intent and of the aural punishment that will ensue has been issued.
Huge waves of tumultuous riffs cascade down as recent single 'Glutton' bullishly marches mid paced with a distinct industrial feel. In tandem with the sonic barrage there is a nod to a post metal direction with ambient and dissonant soundscapes all hinting at the prospect that a deeper, richer and supremely textured death metal album is unfolding.
Variety is Välde's shining light however these small individual moments in variation and odd time signatures are orchestrated and come together for a greater profound effect. The impact of space and calm in amongst the angular djenty rhythms continually adds more diversions and dimensions which ensure you are not only impacted by the crushing walls of noise but equally by the defter more subtle moments. The clean singing (or rather cleaner singing than the gruff death growling) as the groove infused technical brilliance of 'Spectre' plays out is a welcome touch and again magnifies many facets of this modern extreme metal album. From the scratchy caustic chords of the riveting techy 'Tide' into the sublimely compelling 'Välde' the momentum never lets up despite so many changes of pace. Couple that with the emotion and deeper character not normally associated with such brutal music that is scattered throughout and you have deeply dark, textured and complete album.
It's easy to be totally sideswiped by the magnitude of the immediate feel and sound of the album. From its very core 'Välde' emanates ferocious power and a colossal grip in the steam rolling tech death parts. This may to the untrained ear seem too oppressive, mechanised or even characterless. This could possibly be attributed to the crystal clear, modern sound that graces the album. However on repeated listens there are small nuances and flourishes that transform this album into something far bigger than it appears on that first blistering play through. It is that same production that allows all of the differences and contrasts to shine.
It is admirable that Humanity's Last Breath are trying something different which is refreshing to hear in a genre that can so often be bogged down so much by it's own lack of evolution and progression. Saying that the band are not confined by the walls of one sub genre and in embracing all that they have crafted a progressive, daring juggernaut of a modern blackened technical death album.
To be able to deftly add these touches there is a distinct shift in dynamics and to be able to hear, feel and experience these the more you listen truly heightens the reward. However to fully retain attention within these levels of extremity is an arduous and tricky task. Yet with the additional depth created by the use of soundscapes be it keys, synths or even a horn as in the stirring instrumental 'Väldet' Humanity's Last Breath pull it off and do sterling job in keeping ones focus.
For such a sonically charged and immensely thunderous album, to end on a fade out seems a real shame. It's a minor gripe though as there are numerous moments on 'Välde' where the lesser explored more immersive and emotive parts are celebrated whilst ones thirst for extremity is perfectly satiated.