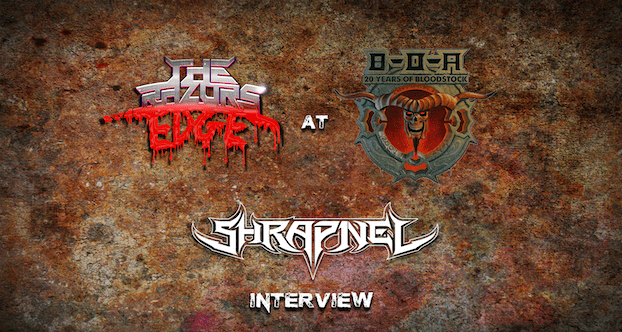 Bloodstock 2021 Interview: Shrapnel
Interviewed by Tim Finch
Following on from their critically acclaimed album last year, Shrapnel tore it up on the Sophie Lancaster stage at Bloodstock Festival 2021 last Friday. Just prior to their set Tim caught up with the lads to talk about what they had in store for the festival, their activities during lockdown and more!
The Razor's Edge: Welcome to The Razor's Edge
We're finally back at live shows, how does it feel to be back out after 18 months locked up?
Shrapnel: It's weird. It's awesome. You know, you kind of get it seems normal but after not seeing everybody for nearly two years now it's weird.
The Razor's Edge: You're playing the Sophie stage later today, just before Speedhorn and Evile. That's a nice slot to have!
Shrapnel: Today that tent is incredible!
The Razor's Edge: Both stages are incredible today, I'm switching back and forth between the main stage and Sophie all day!
Shrapnel: Theres a good mix of bands playing today. We know the Evile guys really well. We've worked with Russ Russel and so know the Napalm Death dudes we've bumped into them a few times. It's kind of funny, I was like 15 and Speedhorn were a band I was desperate to play with at some point and I'm finally opening for them so it's good.
The Razor's Edge: For most fans this is their first show in at least 18 months. Are you planning anything special for them?
Shrapnel: Just playing the new stuff, we've had the album out for over a year now and I think we've played some of the tracks once live, back in Sweden last year.
Our last show was the House of Metal show last year and that was us gearing up to all of the album release stuff and obviously that all went to pot. So just playing the new material is going to be fun.
The Razor's Edge: What's a day at a festival like for Shrapnel. Its 1pm now, you're doing the press rounds, you set isn't until a lot later today. So after you've finished with the interviews what do you guys do before you go over to the stage?
Shrapnel: Before the show, we're going to go and change the strings on the guitars and get our gear round to the stage and as soon as the show is done, it's time to hit the bar!
The Razor's Edge: Are you going to watch anyone else after you've played?
Shrapnel: Definitely the Evile guys. There's a bunch of bands we want to see today, Speedhorn are on after us, basically staying and watching the bands on the Sophie stage. We will have to listen to Primitai as we'll be setting up whilst they are on stage. And then I'm looking forward to seeing Devin Townsend tonight as I've never seen him before.
The Razor's Edge: Are you guys staying for the rest of the weekend?
Shrapnel: Yes we're here all weekend.
The Razor's Edge: Is there anyone you are looking forward to seeing over the next few days?
Shrapnel: PRIEST!
We saw them nearly three years ago and they were absolutely on it. So with the two hour set we're looking forward to hearing some songs they might not play very much.
The Razor's Edge: Yes, their set has been extended half an hour now hasn't it!
Shrapnel: Yeah! Looking forward to Saxon too and Orange Goblin. Sunday's line up is awesome actually. I'm looking forward to seeing Kreator on the main stage as well.
The Razor's Edge: Tomorrow night, that should be good!
It's been a year since 'Palace For The Insane' came out. Certainly one of the albums of the year for 2020. How do you feel the albums been received by the fans over the past 12 months?
Shrapnel: There's been a big difference hasn't there. When we put our second record out we kind of went on hiatus and fell off the radar a little bit. But this time, seeing people talking about it, seeing outlets like yourselves rating it highly has been really awesome. Most people I think probably 90% of people who listen to us now have found us on this new album.
We've seen a lot of growth, that maybe because people haven't been able to get out to gigs, it was a great year streaming wise for us. So considering we've not been able to get out and tour it, it's been incredible actually.
The Razor's Edge: So post Blooodstock, you're on pretty much every tour going. Gama Bomb and Dream Evil to name just a few. Is that the plan now, just to tour the hell out of the album?
Shrapnel: Yes! Now live shows are back we want to be playing as many as possible. There are a couple of tours in the works that we can't talk about at the moment, so it's looking exciting. Hopefully getting over to Europe in the first half of next year, something we've never done before so it's fingers crossed ona couple of things right now!
The Razor's Edge: It's all about getting your name out there and growing the Shrapnel brand.
Shrapnel: And getting to play with bands we've not played with before which is always good.
The Razor's Edge: Are there any bands on your wish list that you'd love to play with?
Shrapnel: Obviously the bigger bands, Metallica – yes please! But I really want to tour with Death Angel we played with them once and they were the nicest dudes and I'd love to tour with them again and Exodus as well.
Slayer was the one for me. The first time we played here, on the Bloodstock tshirt we are literally the very bottom left and Slayer are at the top.
The Razor's Edge: Well you were on the same bill as them, that counts doesn't it?
Shrapnel: [Laughs]
The Razor's Edge: Lads its been a pleasure, thanks for chatting with us.
Shrapnel: Thank you!