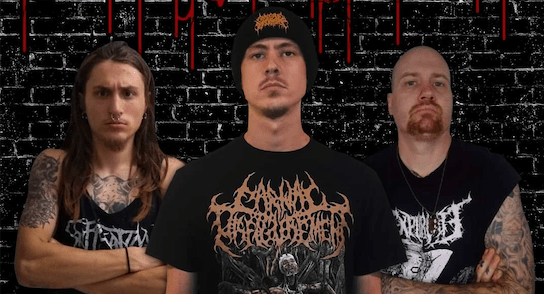 Album Review: Vengeful187 - War Neurosis
Reviewed by Dan Barnes
The new album from Norwegian/ US punks, Vengeful187 lands this week and is a contemplation of all aspects of war delivered in a hybrid of heavy hardcore and slammingly brutal death metal beatdowns.
It's clear from the get-go that Vengeful187 are not going to be sugar-coating anything in their exploration of the combat zone as War Neurosis, the opening track of the album, begins with a powerful roar and a series of death growls. This is heavy, heavy hardcore, full of beatdowns and slow, deliberate chugging guitars.
Entrenched in Horror and Shell Shocked maintain the destructive power of the music, with Entrenched upping the tempo somewhat, in order to construct a track made around a ripping riff and drum hits that sound like mortars going off in the distance. Whereas Shell Shocked, for all big, blasting beats is a surprisingly tender treatment of one of the then War Office's unsympathetic attitudes to the effects of war on a man.
Deadly Precision is the most Slam-based track on the album, whereas lead song, Silence Means Death features an unexpectedly smooth guitar sound, filled with colourful hues and even a smidge of low-end groove.
The vocals across War Neurosis range from the guttural to the throat-ripping and the album is peppered with sample to add further to the overall vibe of the record. Dialogue lifted from Taxi Driver and (I think) the original version of It sits with documentary samples of the explanation of shall shock and, rather unpleasantly, the revelation at the start of Jungle Warfare that IEDs were packed with human excrement along with the explosives in order to cause maximum bodily damage and horrendous infections.
Vengeful187 finish the album with a couple of covers: Death and the City, originally recorded by Born from Pain on their 2003 album, Harvest and One Second Thought's Bring It On. Both are filled with thick, meaty guitar, with the former being a fast, stomping rendition, somewhat at odds with the feeling of the rest of the record; whereas the latter plays into War Neurosis' heavy, plodding aesthetic.
At no point does this latest Vengeful187 album feel as though it is running out of ideas or that the band is constrained by the perceived limitations of the heavy hardcore/ slam genre. Instead, it is a brutal slab of aggression that is as welcome on its tenth listen as it was on its first.