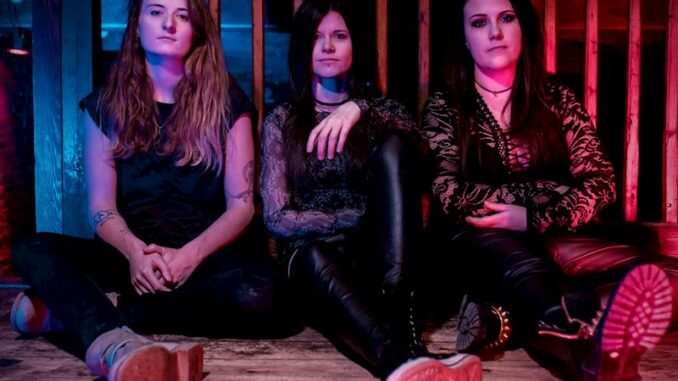 Live Review: Häxan - The Patriot, Crumlin
3rd September 2021
Supt. Ravenbreed, Mad Haven, Ashen Reach
Review and photos by Paul Hutchings
t's been a long and tough time for The Patriot, the legendary 'Home of Rock' in the Gwent Valleys. No gigs because of the pandemic prompted a rethink, and the opportunity to undertake a huge refurbishment of the venue. But the light at the end of the tunnel was always there, at times a tiny sliver, then a small glimmer that has slowly expanded into a shining light which allowed us to return, blinking like miners emerging into daylight after a shift, to live music in South Wales and the grand reopening of the venue run and owned by the Patriots Motorcycle Club.
The venue was sparkling as we entered, the extended bar and elevated viewing area providing a more spacious and flexible feel; ideal for those who may not have wanted to be cheek to jowl with strangers for the first time in two years. What hadn't changed was the warm welcome, something that has always been a key feature of the venue. As the saying goes, "we'll keep a welcome in the hillside". It was great to be back.
With four bands on the bill, it promised to be an action-packed evening. Opening the event were Ravenbreed, a four-piece hard rock outfit from Cardiff. The band has changed their line-up since I'd last seen them a couple of years ago, with original members Mikey Watkins and Ross Formosa now joined with local boy and vocalist Luke Short and drummer Aggy Nowicka, whose timekeeping was spot on throughout their short set. With their recent Echoes' EP still gaining solid reviews, Ravenbreed focused on keeping it tight, giving the music starved crowd a much-needed slice of hard rock. The band looked solid, the interplay between the musicians was fluid and the broad smiles on both band and audience confirmed that they had hit the spot. Short made an emotive speech about his history with the venue, doing open mic spots since he was 16. Ravenbreed were ideal openers on a night that got better as the evening wore on.
A new band to me next in the shape of Merseyside quintet Ashen Reach. The band are another who have released new music during the pandemic in the shape of their debut album 'Homecoming', which supplied the bulk of the setlist. Ashen Reach play a catchy brand of hard rock with plenty of hard-edged riffs. Vocalist Kyle Stanley certainly doesn't lack confidence, cajouling the crowd with encouragement and plenty of on-stage movement. Drummer Jess Stanley, the second of three female skin-beaters on the night was a flurry of arms and crashing cymbals whilst the heavy riffing of the Joe O'Sullivan, Paddy Cummins and bassist Mike McCarroll hit the sweet spot throughout. Heavy but with plenty of melody, Ashen Reach were a real joy to watch and their cohesive approach demonstrated why many tip them to go a long way.
Having been around for a decade, Mad Haven have a swagger and confidence that only comes form having paid your dues. The trio of Tom Rogowski (guitar & lead vocals), Morgan Owen-Rees (bass & backing vocals) and drummer Alex Rogowski (also backing vocals) opened with a flourish and didn't stop until the final beats had been smashed out of the kit. Plenty of hooks and big riffs, Ashen Reach brought a heavier sound to the evening and with Tom and Morgan frenetically switching sides and bringing plenty of
flying hair with their head banging. Their latest EP 'Never Give Up' was released a year ago but this would have been the first or one of the first opportunities for the band to bring those songs to the live arena. They slotted well into the set as Mad Haven, who have been regular visitors to The Patriot over the years proved worthy of the main support slot. A big ovation supported that view.
Last year's White Noise left a good impression on me and I was determined not to miss Häxen after a clash meant that I'd been unable to witness their triumphant show on the Jaeger stage at Bloodstock a few weeks ago. It's been a good while since I've seen drummer Jess Hartley, singer/guitarist Sam Bolderson and bassist Harriet Wadeson but they've always impressed in the past and this show was no different. The seventh date of their UK tour in support of White Noise proved lucky for the packed crowd as the band were in scintillating form, full of confidence and with that steely drive which is so evident throughout White Noise. Cheered on by her nan, who was witnessing her first ever gig, Bolderson is a great singer and can shred in fine style too. Although her guitar didn't cut through the mix as much as I'd have liked, the 55-minute set flew by with tracks from White Noise sung word for word by the many fans in the crowd. 'Black Sheep', 'Grave Digger' (complete with salutary tale), 'Damned if you Do' and the crowd participation of 'Crash and Burn'. Behind her, Hartley hammered seven shades of shit out of it whilst Wadeson rarely stood still for more than a few seconds. Energetic stuff which was lapped up by the capacity crowd. Overall, this was a fabulous night in one of South Wales best venues. It was good to be back and in such style too.
All photo credits: Paul Hutchings