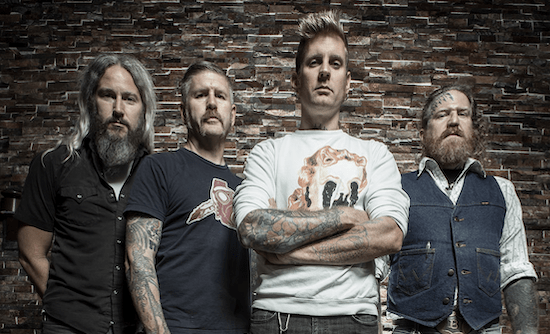 Mastodon Announce New Album 'Hushed And Grim'
Mastodon will release their anxiously awaited ninth full-length album, HUSHED AND GRIM, on October 29, 2021 via Reprise Records. It is available for pre-order at all digital retailers and in vinyl and physical configurations here. Closing a four-year gap, this notably marks the heavy rock quartet's first double album and first new record since 2017's Emperor of Sand, which netted the Atlanta band a GRAMMY® Award in the category of "Best Metal Performance" — their first win for the five-time nominees. EOS also bowed at #1 on the Billboard Top Album Sales chart, #1 on the Billboard Hard Rock Chart, and #7 on the Billboard Top 200 as "Show Yourself," from EOS marked their highest entry at Active Rock, reaching #4.
Over the past year, the group recorded HUSHED AND GRIM in their hometown, collaborating with producer David Bottrill [Tool, Rush, Muse, Peter Gabriel] behind the board. As their most ambitious body of work to date, it consists of 15 tracks, surveying sonic landscapes of rock, psychedelia, punk, metal, alternative, and prog threaded together by the innately expressive musical interplay of these four virtuosic musicians. At the same time, an atmosphere of very real loss, loneliness, and longing permeates through the trio of cathartic vocals as they musically say goodbye to old friend, confidant, and longtime manager the late Nick John by architecting a magnum opus that bears the influence of his eternal memory.
Opening up this world, the band shared a new track entitled "Pushing The Tides." Its gnashing riffs and pummeling rhythms steamroll towards an expansive refrain uplifted by a ghostly chorus melody.
For as much as HUSHED AND GRIM is steeped in one of the darkest periods of the band's career as each member experiencing personal grief, its light shines through in a fully realized manifestation everything Mastodon is right now.
Once again, Mastodon have drafted in revered artist Paul Romano (Remission, Leviathan, Call of the Mastodon, Blood Mountain, Crack The Skye) whose evocative images adorns the cover of HUSHED AND GRIM.
HUSHED AND GRIM represents the next step on Mastodon's endless path of natural evolution. They've once again progressed exponentially as songwriters and musicians who transcend genres while unapologetically refusing to conform and preserving the integrity that transformed them into an iconic and influential forces in modern rock music. By removing boundaries and creating in a free form they evolved with a combination of newfound melodic confidence and their signature musical intricacy intact. In the end, HUSHED AND GRIM is hard-hitting, hypnotic, and heart-wrenching.
In the lead up to the record, Mastodon have kept busy. They performed an innovative livestream, Captured Live At Georgia Aquarium, powered by DREAMSTAGE. They contributed "Forged By Neron" to the DC Comics' DARK NIGHTS: DEATH METAL SOUNDTRACK and "Rufus Lives" to the Bill & Ted Face The Music Original Motion Picture Soundtrack and released the 2020 Medium Rarities compilation. The band also recently dropped a limited-edition shaped die-cut picture disc of the acclaimed Medium Rarities single "Fallen Torches" with a B-side boasting the previously unreleased instrumental version of the track. Bound to be a sought-after collectable, it has been limited to only 11,500 copies worldwide and is available now. Get it HERE.
Mastodon have defied all expectations and bent the mainstream to their whim. Their presence has surged through ABC's Jimmy Kimmel LIVE!, NBC's Late Night with Seth Meyers, HBO's Game of Thrones, The History Chanel's Counting Cars, AMC's Ride with Norman Reedus, Later… with Jools Holland and beyond. Not to mention, their music can be heard in PIXAR's Monsters University and Bill & Ted Face The Music, on the Transformers: Dark of the Moon Soundtrack, and they've partnered with DC Comics scoring the Jonah Hex 2010 soundtrack and more recently for DARK NIGHTS: Death Metal Series (Brann Dailor's 2018 solo track "Red Death" and with Mastodon for "Forged By Nuron" from the current album on Alta Loma Records). They've always been uncompromisingly true to themselves and their global audience.