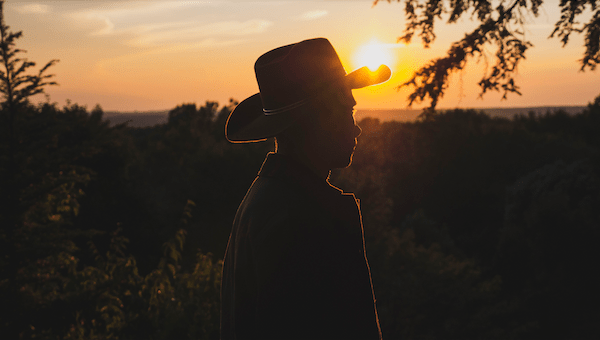 Album Review: Untamed Land - Like Creatures Seeking Their Own Forms
Reviewed by Paul Hutchings
Untamed Lands are described as the world's first metal band to incorporate the "feral sounds of classic, old western cinematics". The band's debut album, 'Between the Winds' arrived in 2018 and I am unfamiliar with it, so with no baggage or preconceptions, I was able to immerse myself in this sophomore release.
Arriving at the album stream, five tracks didn't seem too much of a challenge. But when three of the five songs are 10, 14 and 15 minutes long respectively, you know that time is the main investment.
The opening song, 'Once Upon a Time in the Kenoma', begins with immediate cinematic soundscapes up front and centre. This does indeed evoke the ambiance of Ennio Morricone and the spaghetti Western soundtracks, a steel guitar in harmony with some dramatic orchestral elements capturing the essence of the tumbleweed blowing across the rundown mining town. But a blackened riff slowly emerges, like a dust cloud sweeping through the canyons and we segue gently into 'A Nameless Shape'.
After the introductory track, it's a shock to experience walls of tremolo riffing and dark, Satanic rasps, and even more confusion follows when the maelstrom drops, and banjo takes central spot before the black metal tempo reignites. What follows is interesting; a blend of Western and black metal styles, operatic harmonies and desert sounds that strangely interlock with more than expected cohesion. 'Clothed in Smoke', at just under ten-minutes, flows from movie score to hammer horror to Ghost to ambient black metal in a ride which is innovative, exhilarating, and unique.
The centrepiece of the album is the 15-minutes of 'The Heavenly Coil', a kaleidoscopic combination of organ, harpsichord and acoustics which intertwining with progressive blackened metal ingredients. The Western flavours which provide the concluding song, 'Agamôth' once more craft imagery that transports those of us old enough back to those classic cowboy and Indian films of our youth.
Untamed Land is the project of multi-instrumentalist Patrick Kern, who was initially inspired by a combination of pagan, cosmic and 'doomy' black metal. One listen to this album confirms that he combined many more influences, to a point where it's impossible to characterise the release within a single genre. It's an album with many twists and turns, complex and intricate yet with a warmth and familiarity that encourages you to listen again and again.