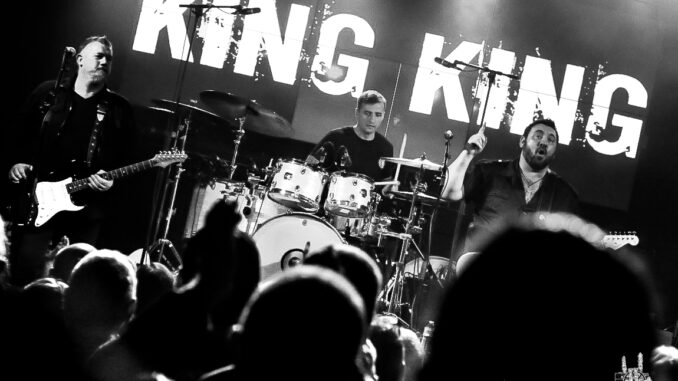 Live Review: King King - Robin 2, Bilston
20th October 2021
Words & Photos: Shaun Hulme
Tonight I am at the famous Robin 2 club in Bilston for one of my favourite blues bands in recent years, the mighty King King.
But first up is a husband and wife duo Aaron and Grace, known as When Rivers Meet. I have been looking forward to seeing them as I have heard a lot of good things about these guys and they have been causing a quite a stir in the blues world after their debut album 'We fly free'.
As they walk out on stage to a massive cheer from an already capacity crowd, it is evident they are very popular, and it is easy to see why. There is only the two of them on stage with Grace singing along to Aaron on his guitar and a bass drum he occasionally plays with his heal.
Their opening track 'Did I Break the Law' is clearly a fan favourite and gets quite a few in the crowd dancing and foot tapping straight from the off. Grace clearly has a great vocal range and really owns each song while Aaron keeps the music flowing and interacting with the crowd. They go through their set playing more favourites such as 'Battleground', 'We Fly Free' and 'Innocence of Youth' with a relaxed easy vibe, almost as if it was a jamming session.
It is only a short set tonight with six songs, but they absolutely ace it in every way, great songs, great performance, great presence and they even manage to come out to meet fans after their set. Next year they will be embarking on their own headline tour and I highly recommend if you get the chance then go and see them, you will not be disappointed!
When Rivers Meet release their new album 'Saving Grace' on 19th November and I for one can't wait.
So here we go, 'Highway to Hell' starts blasting over the PA as King King make their way on stage with Alan Nimmo is his customary kilt joined on stage by his brother Stevie Nimmo on guitar, Jonny Dyke on the keys, Zander Greenshields on bass and Andrew Scott on drums, they fire straight into it with a blistering performance of "She don't gimme no loving". It is clear to see these guys are up for It tonight!
Now we all know about rock stars and their wild rock n roll lifestyles, well Alan Nimmo is no different as he hits the drink in between songs… what is his tipple of choice I hear you ask? Bourbon? Beer? No, he hits the hard stuff. A cup of Earl Grey while telling the crowd not all Scot's are piss artists!
They play through great tracks such as 'Waking Up', 'Rush Hour' and 'Coming Home' before one of my personal favourite tracks, 'A Long History of Love'. Jonny Dyke puts in a stunning solo on the keys to rival Alan on the guitar, showing how he gives King King such a distinctive sound and making his presence known.
They make their way through the brilliant songs 'Never Give In', 'Whatever It Takes' and 'I Will Not Fail' taken from their new album 'Maverick'.
Then comes the encore with possibly the highlight of the night, a performance of the new song 'When My Winter Comes'. Alan Nimmo gives a truly stunning performance with a pitch perfect vocal which is quite remarkable given the fact he has been singing his heart out all night. This for me is the finest track from the Maverick album and to hear it performed this well live was a real treat.
This is the second time I have seen King King, and for me they get better and better! Again, if you get the chance you need to see these guys live! All in all, this was a perfect gig with two great bands, a great atmosphere and a great example of how good the British blues scene is right now.