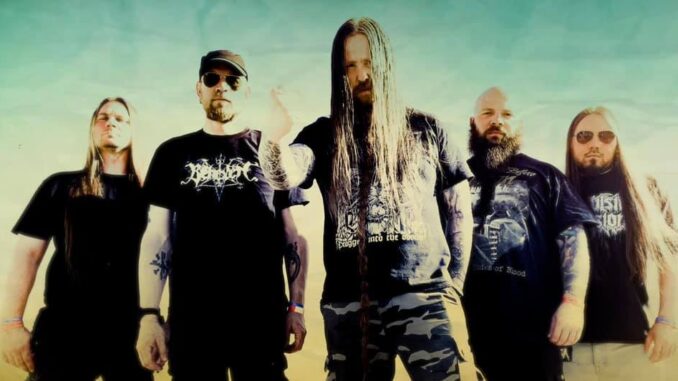 Album Review: Wombbath - Agma
Reviewed by Sam Jones
Wombbath are a name legendary amidst the annals of Swedish Death Metal and, upon what will be the very final day of 2021, we'll see the band release their hotly anticipated sixth full length album: Agma. Formed way back in 1988 originally as The Shadows, the band altered their name to Seizure in 1990 before changing it once more to Wombbath within the same year. A number of Demos and a Split followed suit and before long the band would release their first full length record, one that would become iconic in Swedish Death and Extreme metal on the whole: 1993's Internal Caustic Torments. An EP a year later however would be the final work released by the band for some time, not until 2014 would the band rev once more into life. 2015 saw us receive their first album in over two decades: Downfall Rising. Followed soon by 2018's The Great Desolation it marked a pretty consistent slew of material from the band. I will admit I wasn't a fan of 2020's Choirs Of The Fallen, personally seeing that album as a competent release deeply hindered by a poor and hurtful sounding production quality. I haven't heard listened to the 30th anniversary release that was Tales Of Madness at the back end of last year although I heard very promising things about it. So, that's why I was once more excited to see what Wombbath had in store and whether the hype I was hearing regarding the first few released tracks, could be extended for the rest of the album. At 16 tracks altogether and 72 minutes in length, Agma would certainly give me plenty of time think on it.
The production on this record is one that manages to entwine all the instrumental and vocal elements the band throw at us, merging them all together into a powerful and relentless soundscape that gives its viscous and membranous performance something to latch onto. However, what is certainly worth noting is that the production doesn't seek to strike you directly in the face, take note of the riffs from time to time and you'll realise that they don't aim to turn your face into their newfound punching bag. Instead, the album really assumes this enveloping and coating persona that seeks to ensnare you within its destructive tendencies. By keeping you firmly wrapped within its crushing forays, it enables you to feel comfortable and at home amongst its onslaught of death metal riffage. Like a snake slowly coiling itself around you, Wombbath have established a production that's cosy and hospitable to be at the centre, all the while acknowledging the band's annihilating performance in heightened attention owing to how the band aren't constantly assaulting your senses. You're able to fully concentrate on what they're playing, and the record is much smoother running because of it.
What I liked about the way this album sounds is that even though we've established how the band choose to wrap around instead of punching you head on; their soundscape has a particularly visceral and pronounced bass presence behind its initial impact. The band have crafted a unique experience whereby we're able to move through this record without feeling our senses blinded by an overwhelming slew of malice, and yet the band's surrounding texture is still as punching and powerful as any longtime fan of Wombbath would expect the band to be. You're able to fully relax while the album plays and yet the band don't let you fully drop your guard altogether, you're forever on edge for when that next hit of riff or drumming or vocal delivery comes because the band have fine tuned their mix to be simultaneously porous and devastating. That's a tricky and exceedingly fine line for any band, vying for this form of production, to attain. The band may enable you to take in everything they've got in store here but that doesn't mean they're just going to lie down for you, Wombbath are in charge here and for the full 72 minutes that Agma is here for they have zero intention at letting you go easily. This might be the best sounding album Wombbath have ever done, truly taking what they've done previously and launching it to new and grander heights.
If there's any case Wombbath can make throughout this record, it's that Agma is the most dynamic and alive work of music they've ever made. In the seven years since their reunion they've been slowly but surely churning out material, perhaps in some bid to make up for the twenty odd years between then and their debut record, that has championed their own brand of Swedish yet emboldened death metal. But here, I believe, Wombbath are hitting a new stride. The interplaying and chemistry they demonstrate from one track to another showcases how wild they're willing to take their songwriting here. For a 16 track album there was not one instance where I felt a particular song was lacklustre, there was not one moment where I felt dulled or wished we'd soon move on. Track lengths aren't too elongated so the band understand they don't want to keep you on a certain point forever, the riffs and drums seem to have moulded together to create a seamlessly working and binding accord where one element is forever reinforcing the other. Riffs here never feel like some carbon copied or traced over rehash of what other Swedish extreme metal bands might have released this past year, the songwriting has given these riffs a dimension of reality and life that I feel hasn't been captured since their debut record days. It's this organically feeling, natural aesthetic that's applied to the riffs which gives them the presence and power they exude; the band haven't merely copied one riff or songwriting segment and repeated it ad infinitum throughout the record. Riffs come and go, they transform and change depending on what the songwriting requires the guitar work to do and at times they help crank a memorable passage into an towering incline which Wombbath have never achieved before.
The vocals, for this similar reason, are absolutely exemplary. As the riffs and the songwriting also demonstrate, the vocals have a legitimate life of their own and one that seems to practically jump through the cover of this record. Through the individual performance you're able to really feel the power and delivery that is going into these vocals whereby the interior walls of their frontman's throat feel deeply accentuated. Not only is the vocal delivery powerful but it's wonderfully textured to give the band a somewhat dry and sandpapered yet guttural performance to throw into their bass-amplified sound. But the vocals really do show off the most when it comes to giving you that lively and oncoming sound the band have made so strong throughout this record's performance. Vocally the performance is captivating and you'll be lip-syncing to various passages and chorus phrases before too long because I certainly was. The album, through the vocals, brings to mind images of the band's recording process: how they moved, the sweat and physical exertion it took to create this, the aches their hands felt after all the strumming and the sonic might their associates felt beholding them whilst in the mixing booth. Together with the riffs, the vocals inject the most life and dynamic performance the album gives us, never letting us down or relax too long before another bout of power comes our way to sway us once again to our firm attention.
In conclusion, I can say with full confidence that Agma is the best album Wombbath have crafted since their legendary 1993 debut record. Not only is it easily their best album since their modern day reunion but, during several periods throughout this record's runtime, it matches the quality and memorability of that eponymous record. The breadths and heights this album reaches for, and then grasps competently, is absolutely amazing. The greater thing about this album is how it presents to you this awesome scope, 16 tracks and over 70 minutes in all, the longest work Wombbath have ever unveiled upon their waking fans, and somehow they've actually pulled it off. I will admit when I saw how long this album ran for and how many tracks were contained within I was anxious, I made sure I had plenty of time to give this record the thoughts and time it deserved to have prescribed to it. To reiterate a previous thought, not one moment on this record dulled me or had me wishing for the next track which through such a lengthy affair is an achievement unto itself. The soundscape. The production. The mixing. The riffs. The vocals. The songwriting. The drops of melody here and there. The piano and string sections. Everything that has been injected into this record has purpose in one form or another, and when something is included that is a little more left-field it isn't so implemented so completely that it's impact grows tiresome. In my mind, Agma is without a doubt Wombbath's finest achievement in almost 30 years. The band should be proud of themselves here; a record that's as melodic as it is destructive as it is enigmatic. If you're looking for a way to end out 2021 in style when this record drops this coming New Years Eve, look no further than Wombbath's Agma for a hellfire way to honour the past and embrace the future. As a particular chorus off a favourite track of mine from this record demonstrates, Wombbath will crush all opposition when Agma drops. The Age Of Death is here!