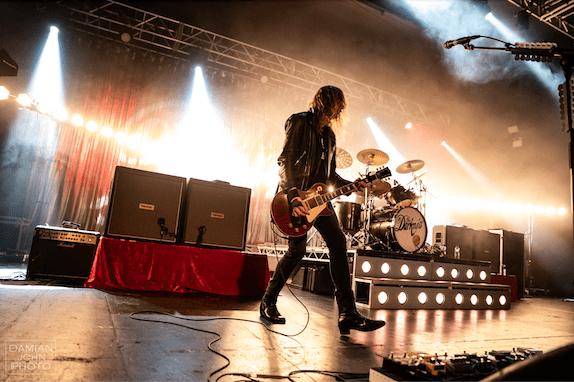 Live Review: The Darkness – O2 Academy, Birmingham
14th December 2021
Support: Massive Wagons
Words & Photos: Damian John
It's been a good few years since I last caught The Darkness live, funnily enough it was at this very venue on this very stage at the O2 Academy Brum. They thoroughly kicked ass the last time with frontman Justin Hawkins on top form joking with the packed O2 crowd so I eagerly await to see what they bring tonight. Currently on tour promoting their latest album 'Motorheart', cruising across the UK they're joined by Massive Wagons, another band who have impressed me live before despite the fact it was absolutely pissing it down the last time I saw them. It's fair to say I've got high hopes for this pair so don't let me down guys!
There are no local support bands tonight so Massive Wagons come barreling out the gates with 'Fee Fi Fo Fum', they really aren't pissing about. Even whilst lacking a lot of space on stage vocalist Barry 'Baz' Mills wastes no time running across the stage and thrusting his mic stand into the air. This dude doesn't stop moving, high kicking his way through tracks, windmilling away whilst guitarist Adam Thistlethwaite shreds away stage left. Baz really loves putting on a show, for the crowd as well as us togs all huddled together in the pit pointing his mic stand directly down the barrel of my lens before lifting it to the balcony for a good sing-a-long moment.
Despite the energy exuberated onstage I wish the crowd was a little more responsive, I get it, it's a school night and as Baz put it, 'it's a Tuesday or something', even blasting into 'I Fought the Law' failed to produce much of a response. Ultimately it doesn't matter much when the solos are flowing and their sound is so on-point, Massive Wagons really were a solid choice to open this show but hey, onto the headliners we go.
Kicking off with a new track 'Welcome Tae Glesgae' the crowd are finally starting to warm up a bit. The Darkness have arrived. The strobe heavy intro quickly progresses into fan favourite 'One Way Ticket' and for the first time this evening I hear the roar of the crowd over my shoulder all singing away. Justin's vocals shine throughout 'Growing on Me' effortlessly hitting those high notes he's known so well for. Bassist Frankie Poullain looks as cool as ever, his afro silhouetted by the stage lights occasionally lit up by a warm glow.
The cowbell makes another welcome appearance for 'Givin' Up' as Justin's shirt does a disappearing act to the elated screams of a few over-excited fans. I must admit, The Darkness aren't a band I actively follow anymore musically but it always amazes me how many bangers they can pull out. 'It's Love Jim' flows straight into 'Black Shuck' (featuring Justin sporting a rather lovely golden catsuit) directly into 'Heart Explodes', get those hands in the air!
You know, I don't think the Darkness can put on a bad show, they're cheesy as hell but I can't help but smile while watching their silly antics and listening to Justin's banter with the crowd. As you first hear the iconic intro riff to 'I Believe in A Thing Called Love' how can you not be transported back to the simpler times of 2002? Though, I just had to fact check this, I was 9 when it came out!! ...Talk about simpler times. Thankfully the sound of the crowd cheering during the chorus manages to pull me out of my brief existential crisis.
As the show draws to a close how else could they finish given Christmas is but two weeks away; 'Christmas Time (Don't Let the Bells End)', it had to be didn't it? How could they not? What a perfect way to close the night and seems to be a real winner with everyone brave enough to face the cold on this blustery December night.
Till the next time The Darkness rolls into town, I can walk away satisfied once again, they put on a real awesome show tonight and I can't wait to see those catsuits grace the stage once more.