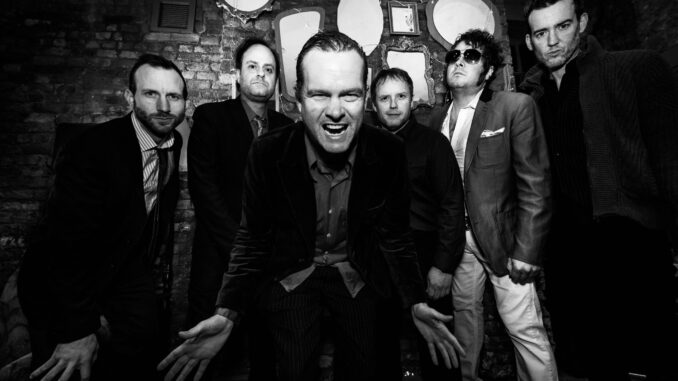 Live Review: Electric Six – Islington Academy, London
10th December 2021
Support: CLKWRK
Words: Paul Hutchings
In the week when more illogical attempts to address the spread of the latest stain of coronavirus were launched by the UK Government, it was reassuring to know that music lovers are refusing to cower at home. A raucous and eclectic crowd were in the mood to party and let off steam as Detroit's finest rolled into the Capital as part of their postponed 2020 UK tour. Tickets for this one had rolled over from last year and by the size of the audience, most had decided that holding onto their tickets was worth it. We were rewarded with a 24 song, 90-minute show that saw the band plunder their extensive catalogue from nearly two decades and there wasn't a soul in the place who left without a huge smile, such is the effect of Electric Six.
I only caught the final couple of songs from Burton-on-Trent's CLKWRK, so it would be unfair to make much of a judgement. Their robust cover of Led Zeppelin's 'Immigrant Song' was certainly one that went down well with the crowd and ensured that they finished on a high. Their previous songs were decent but nothing that grabbed me by the nuts. Maybe one for another day.
Enter Dick Valentine and his band of merry musicians. I've seen these guys many times over the past fifteen years or so and they never fail to entertain. Still most famously known for one of their weaker songs, the ridiculous 'Gay Bar', there is much more to Electric Six. Of course, we still get a smattering of fans dressed as Abraham Lincoln just as it's been since about 2003 and the set list continues to draw heavily on 'Fire', the album that spawned not only 'Gay Bar', but 'Dance Commander' and 'Danger! High Voltage' amongst others.
As I mentioned the crowd were feeling buoyant with a celebratory, Friday evening vibe. Kicking off with 'Mr Woman' from 2006's 'Switzerland', the centre of the venue was soon a heaving mass of sweaty humanity as mosh pits and pogoing quickly became the order of the day. It's always surprising how much energy Electric Six can summon from their audience. There is a symbiotic relationship; Dick Valentine's deadpan humour and the superb musicianship of the band encourages the assembled mass to respond with huge amounts of passion, word perfect and cutting dangerous shapes that would seem out of place elsewhere but here feel totally natural.
There's a minimum amount of fuss on stage. Valentine may be central to the proceedings, but it is the cohesiveness of guitarists Johnny Na$hinal (The White Wolf) and Da Vė, alongside long-time keyboard player Tait Nucleus and their current rhythm section Todd Glass and Rob Luker that form the rock-solid platform beneath him.
Whilst the better-known songs always get a great response, I've rarely seen some of Electric Six's less well recognised tracks greeting with more enthusiasm. This was a gathering of true fans and not those just curious because they know one or two songs. Lyrics were sung with gusto, and even after 80 minutes of relentless dance rock, the enthusiasm remained high. The rabid response to closing song 'Dance Commander' proved, if evidence was ever needed, that the World needs Electric Six, we need Electric Six and they need an audience. As Dick Valentine urged those present to travel to the Isle of Wight to take it over for their gig the following night, a broad smile was plastered on just about everyone's face. Hopefully the band will return to us in 2022. It's a tradition to see them around now. I hope it's one we can continue for many years to come.