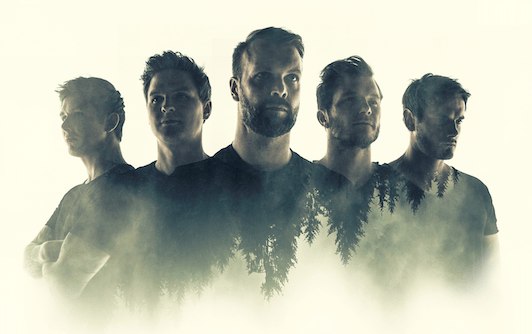 Live Review: Leprous – The Electric Ballroom, London
4th December 2021
Support: Wheel, Aiming For Enrike
Words: Richard Oliver
Whilst we have been able to enjoy the experience of live music once again in the UK since this summer, one thing that has been in short supply has been the number of international bands and acts that have been able to perform in the UK. Covid is still rearing its ugly head in the form of international travel restrictions and with many countries in Europe going back into lockdowns the result has been many European tours having to be cancelled. I had my fears that the same fate would befall the 20th anniversary Leprous tour but despite some cancelled shows and countless other setbacks the band have doggedly persevered and managed to bring the tour to the UK for a couple of highly anticipated shows.
The second of these shows took place at the Electric Ballroom in Camden, London and was a wholly sold out show. Unfortunately with this being both a sold out show and the doors opening later than expected I missed the vast majority of opening band Aiming For Enrike. Despite the fact that the vast majority of the audience were in a large queue snaking down Camden High Street, the band still went on stage at their allotted time slot meaning that they were playing to a very sparse crowd. By the time a significant number of people had finally made their way into the venue their set was pretty much over and done with. The band features former Leprous drummer Tobias Ørnes Andersen in their ranks and from what I did manage to see and hear it sounded like an interesting mixing and melding of sounds and styles with little concept of genre. Maybe another opportunity to see this band will arise in the future.
In the main support slot were Finnish progressive metal band Wheel. Wheel hadn't had the most successful time on the tour so far with their equipment getting lost the previous day resulting in the band having to drop out of the show in Leeds on Friday night. I think we could all feel the overwhelming feelings of relief and pure joy coming from the band at finally being able to perform in the UK once again after such a long time. I'm not wholly familiar with Wheel's music. I have listened to their albums but am not at a level of familiarity with the band where I can name songs but know they have a sound akin to Tool but without all the egos and pretentiousness. This was the band's first opportunity to perform songs for a UK crowd off their latest album Resident Human as well as some of their older material. It was music that was equally as complex as it was accessible with plenty of emotion and enthusiasm as well as moments that demanded some rigorous headbanging. Although the sound was a little bit on the muddy side this was a great way to warm up the audience for the majesty that was to follow.
Having formed in 2001 in Telemark in Norway it was the 20th anniversary of Leprous and they were here to do a special and landmark set celebrating the entirety of their career. This was a set that contained not only deep cuts but also dug up some long buried cuts going back to the very beginnings of the band and working forward to where the band are now musically in 2021. The band opened the set with these very deep cuts performing a medley of material off their first two demos - Silent Waters and Aeolia - with bits cut from the first song they ever wrote Silent Waters as well as Eye Of The Storm and Disclosure. They then moved on to their debut album Tall Poppy Syndrome and played two songs off every album they have released meaning songs were heard this evening that have not been performed by the band prior to this tour for a very long time.
For long term Leprous fans this was a grand feast of progressive music from early songs such as Passing, Dare You and Painful Detour to songs off their latest albums such as Below, Distant Bells and Out Of Here. The setlist was also littered with fan favourites such as Forced Entry, The Valley, The Price, Slave and From The Flame. It was an absolute beauty of a show with the band on absolute fire with killer performances all round. The music of Leprous is as staggeringly complex as it is achingly beautiful and not a note or beat was missed. There were also some guest musicians with former drummer Tobias Ørnes Andersen joining for a handful of songs which were performed with both drummers on stage whilst a trumpet player joined the band on stage for the majority of the second half of the set. All eyes and ears though were on frontman Einar Solberg who sounds just as colossal, graceful and stunning as he does on record. Easily one of the best singers in rock and metal with such breathtaking control that it was impossible for me (and many others in the audience) not to get caught up in the emotion and beauty of the performance. The main set ended with a song I was desperately hopeful that Leprous would play, which was the incredible Nighttime Disguise - a song that was written with interjection from fans who voted in the musical direction of the song through a live stream. It is a special song that sees the band and fans come together and it is also one of the most challenging songs for not only the band but for Einar to perform vocally but they pulled it off effortlessly and it was simply jaw dropping. To bring things to a satisfying close the band performed the rhythmic and progressive powerhouse that is The Sky Is Red off 2019's Pitfalls album. A suitably epic conclusion for a suitably epic show.
Being as Leprous are a band that I would definitely count as one of my favourites, this was indeed a very special show and one that was well worth spending eight hours on a coach for. I eagerly and hopefully await a return to the UK next year for some more shows to support the release of this year's fantastic Aphelion album. If you like progressive music and you haven't heard Leprous then stop whatever you are doing right now and get listening!