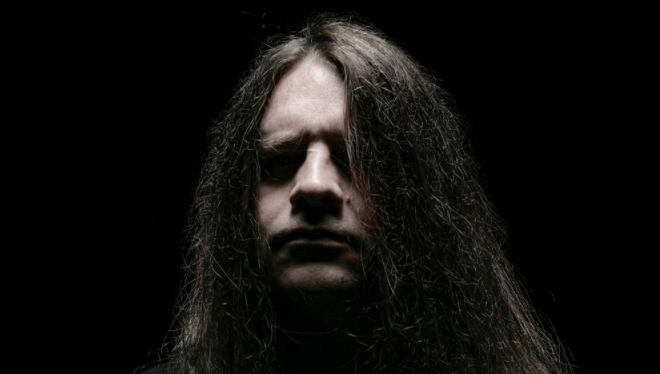 Cannibal Corpse Vocalist George "Corpsegrinder" Fisher Announces Solo Album
On February 25th, Cannibal Corpse vocalist George "Corpsegrinder" Fisher will release his debut solo album, titled Corpsegrinder. For a first preview of the record, a lyric video for the new single "Acid Vat (feat. Erik Rutan)" can be viewed here!
Pre-order your copy of Corpsegrinder now on CD and cassette via thecorpsegrinder.com and martyrstore.net. Additional vinyl copies will be available in summer 2022 - stay tuned for more information coming soon!
Corpsegrinder is co-produced by Nick Bellmore (Dee Snider/Kingdom Of Sorrow) and Jamey Jasta (Hatebreed) and will be released through Jasta's new label, Perseverance Music Group. Featuring a guest appearance from Erik Rutan (Cannibal Corpse, Hate Eternal) on the track "Acid Vat", the album also sees Charlie Bellmore (Dee Snider, ex-Toxic Holocaust) handle guitar and bass duties, with Nick Bellmore (Dee Snider, ex-Toxic Holocaust) on drums. Together, they created a 10-song effort that is chock-full of death metal, hardcore thrash, plus Corpsegrinder's signature guttural vocals. See below for the complete track-listing.
Corpsegrinder track-listing
1. Acid Vat (feat. Erik Rutan)
2. Bottom Dweller
3. On Wings of Carnage
4. All Souls Get Torn
5. Death Is the Only Key
6. Crimson Proof
7. Devourer of Souls
8. Defined by Your Demise
9. Master of the Longest Night
10. Vaguely Human
After debuting on the worldwide charts earlier this year with Cannibal Corpse's critically acclaimed Violence Unimagined (#2 Current Hard Music Albums - USA, #2 Hard Music Albums - Canada, #2 Independent Albums - UK, #6 Official Album Charts - Germany, and many more!), Corpsegrinder has returned with a solo full-length, set to be one of the heaviest albums of 2022. Throughout the years, the Cannibal Corpse front-man has become a beloved figure in the metal scene and beyond, having one of heavy music's most brutal voices. That iconic growl shines through on Corpsegrinder, a soon-to-be classic in the vocalist's celebrated catalog.