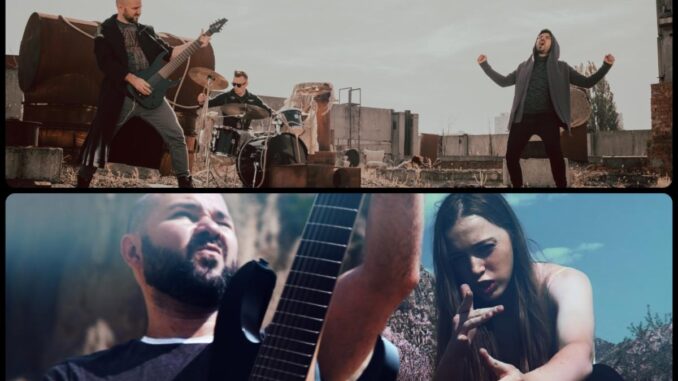 Single Review: Seas On The Moon - Promise Land + more!
Reviewed by Paul Hutchings
Formed in Chisinau, the capital of Moldova, Seas on the Moon's bio says that they were originally inspired by Nirvana. Listening to the first track in this bundle (which includes new song 'Promise Land'), called 'Bugs', one would be hard pressed to find a connection. But I'm equally puzzled by the comparisons to Dream Theater, Pain of Salvation, Porcupine Tree, Andromeda and even Rush. From that list you should be able to establish that Seas on the Moon sit firmly in the progressive rock and metal camp. I'm not convinced that they actually sit there that comfortably from what I heard.
The six tracks that are included here features the two band members, brother Valentin Voluta (guitar) and Eugene Voluta (drums) alongside singers Athena on three songs and Eissa Morphide, Lena Scissorhands and Vitaly Machinunsky on the other songs. The songs are well crafted and performed, with each vocalist adding something a little different.
The first two songs that feature Athena follow a semi-Europop style, with symphonic elements that would put the band alongside the likes of Epica and Delain, albeit with slightly more progressive overtures. The cover of Sabbath's 'Immaculate Deception' from 1994's 'Cross Purposes' is an interesting choice, with Machinunsky bringing a deeper style than Tony Martin. It's not a bad effort, adding muscular riffs to the original although it doesn't stray that far.
'Prey' features Eissa Morphide, whose powerful screaming delivery mixed with soaring cleans suggests an attempt at metalcore, with a chugging riff dominating the song. The vocals certainly add a different style but overall, the song is routine and unimaginative. 'Promise Land' is the third to feature Athena, and whilst there is certainly an underlying progressive vibe it doesn't push deep enough into that genre to earn the label. It's the final track, 'The Regress' that brings a pulsing bass line and some electronica although Lena Scissorhands voice is about as generic as one could find.
The six songs are well produced, listenable but overall, there is little to get over-excited about in this release. The songs don't really stick in the memory for long, and really, it's just a bit throwaway.