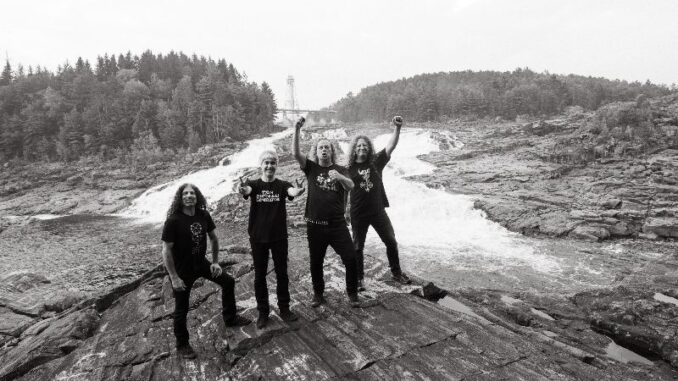 Voivod Launch Video for 'Planet Eaters'
Canadian progressive sci-fi metal innovators VOIVOD are kicking off the campaign for their new studio album Synchro Anarchy scheduled for worldwide release on February 11th, 2022 via Century Media Records. 'Planet Eaters', the first single from the record, has been launched today. Check it out in a video clip directed by Pierre Menetrier here.
VOIVOD drummer Michel "Away" Langevin commented about the track and the video as follows: "On April 21st, 2021 an animated video for the song 'Nothingface' popped up online. The video was done by Pierre Menetrier on an Amiga computer in 1991, which I thought was beyond cool. The spectacular imagery and visual effects were just perfect for a Voïvod song. After wrapping up the recording and mixing of the 'Synchro Anarchy' album, we all agreed on 'Planet Eaters' as the first single/video. We thought the song had a vintage 'Nothingface'/'Hatröss' vibe, so I immediately contacted Pierre and asked him if he could make a video for the song. Once again, the result is just mind-blowing. You just can't get more Voïvodian than that!"
The new album was again produced with Francis Perron at RadicArt Studio, features cover artwork once more created by VOIVOD's Michel "Away" Langevin and includes the following track-listing:
VOIVOD - Synchro Anarchy:
Paranormalium
Synchro Anarchy
Planet Eaters
Mind Clock
Sleeves Off
Holographic Thinking
The World Today
Quest For Nothing
Memory Failure
Further details about the album's release formats, a first single and video as well as the start of the pre-order campaign are coming up on Friday, December 10th, 2021. Mark your calendars…
Lost Machine - Live is still available as limited CD with O-Card packaging (in its first European pressing), as Digital Album and as Gatefold 2LP on 180g vinyl (in several variations and limitations), which can be purchased here.
Stay connected for more VOIVOD news and an update on live activities in 2022 coming soon…