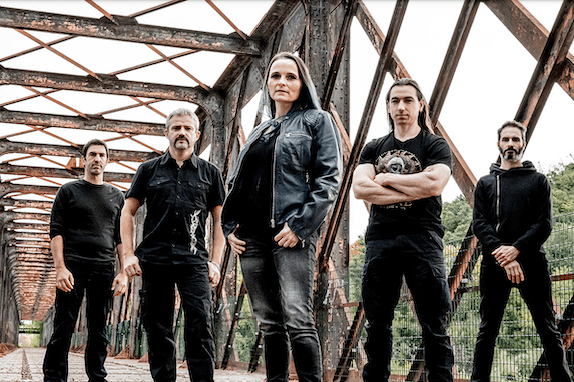 Album Review: Bullet Ride - At The Gates Of Hell
Reviewed by Paul Hutchings
Perfunctory heavy metal with a hint of thrash would be the only way I can describe French five-piece Bullet Ride. 'At the Gates of Hell' is their debut album and whilst it isn't terrible, the best compliment I can pay it is that I almost managed to get through the whole record before reaching for the off switch. Whilst the energy and enthusiasm is there in spades, the music is generic and forgettable and at times rather poor.
Bullet Ride are fronted by Manu Dal Grande, who adopts a schizophrenic style on opening track 'World on Fire'. One minute she is hitting some ear-piercing high notes, the next she's delivering some frankly poor growling vocals, something that I suggest she drops immediately for they add nothing to the song. Backed by dual guitars and a robust rhythm section, Bullet Ride have also decided to utilise guitarist Alexandre Duffau on backing vocals. His high pitch, along with the soaring melodies edge the band towards power metal ala Blind Guardian, albeit on a much lower budget.
This album is generally competently played. There's a change of tempo on 'Point of No Return', which begins with a brooding intro before a chunky riff kicks in. It's here that Dal Grande's vocals waiver slightly, but she delivers in a solid style on a track that becomes a rather lacklustre affair. 'Somewhere Else' follows and despite the driving tempo, the reliance on the gruff vocals doesn't help the track one bit. If anything, the vocals provide a distraction to a muscular thrasher with some neat dual guitar work.
At the Gates of Hell struggles from a lack of originality. The tracks with the death metal vocals smack of a poor Arch Enemy, with 'Naked Greed' solid yet uninspiring and at times just a little dull. 'Eternity' picks up the pace but despite some fabulous guitar interplay, the song isn't anything to get excited about. If you have made it this far, you deserve congratulations, because this is a slog. 'All At Sea' drops the tempo, and yes, we have a dreadful ballad which is best skipped. In fact, it was time to bring this album to a close, for despite two tracks remaining, I'd had enough. Sometimes you have to quit when you are ahead, and I'm afraid, to use a footballing analogy, Bullet Ride are very much lower league side.