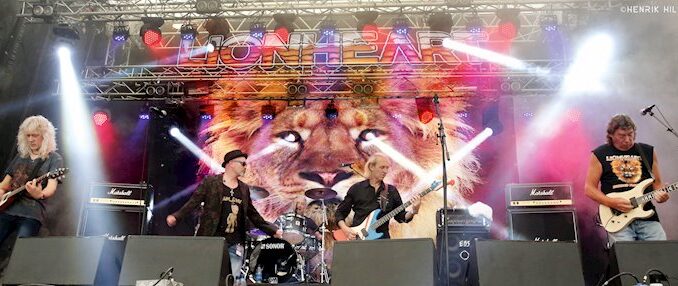 Album Review: Lionheart - Second Nature
Reviewed by Paul Hutchings
It was only four years ago that Lionheart released 'Second Nature' so the first question is why we are seeing this on the review list again. The answer lies with a collapsed record deal that saw the album see the light of day in 2017 only to disappear in 2020 outside of Japan. With a new deal with Metalville Records secured, a remastered and repackaged version is now being released and one fine slab of melodic rock it is too.
For those who don't recall, Lionheart initially roared in 1984 when former Iron Maiden guitarist Dennis Stratton joined forces with Steve Mann (Michael Schenker Fest), Rocky Newton (Ex- MSG) and ex-UFO man Clive Edwards. With a vocalist secured in Chad Brown, the band gained a contact with CBS the debut 'Hot Tonight' was released. Line-up changes and various other issues saw the band hide in then long grass whilst the various members formed other alliances. Lionheart released a double album of demos in 1999 and in 2016 were invited to play at the Rockingham Festival in Nottingham. With Lee Small on vocals, the remaining original members began the process of recording a new album, which was 'Second Nature'.
You can see why it was voted AOR album of the year by readers of Classic Rock. The songs on 'Second Nature' are beautifully crafted, full of melody and at times ferociously heavy for a band whose main style is the gentler approach. The ballad 'Every boy in Town' doesn't emerge until well over halfway and is proceeded by some very solid tracks. Opening with the stomping 'Give Me the Light', the instant impact of Small's soaring clean vocals and the catchy chorus immediately have you singing along. The first cover is interesting, with a revved-up version of Chris De Burgh's 'Don't Pay the Ferryman', which is an earworm, whichever way you view it. Again, difficult not to sing along with.
In fact, such is the quality of the song writing on 'Second Nature' that it's crammed full of songs that you can singalong to after a couple of plays. But don't be deceived, this is an album that is lovingly executed, and the remastering has enhanced the tracks superbly. 'Angels with Dirty Faces', the title track and the fast paced 'Lionheart' are amongst a plethora of songs that stand out. Unlike some AOR releases, the guitars are given full head, combining neatly with the keyboards. The fretwork of Stratton is impressive throughout, his playing rich and soulful.
The remaster comes with bonus tracks which include the 2018 Christmas single, 'Mary Did You Know', which is hideous, as all Christmas songs are, but you can skip past that to a cover of 'Paperback Writer', which is okay. In fact, the tail of this album is probably best avoided because the front end is loaded with much better music. Ignore the final couple of songs and you have an AOR album that stands high and proud. Since 'Second Nature', Lionheart have released 'The Reality of Miracles' in 2020, which continued the quality that is shown on this release. Certainly, a band well worth checking out if you like a bit of the smoother side of the hard rock world.