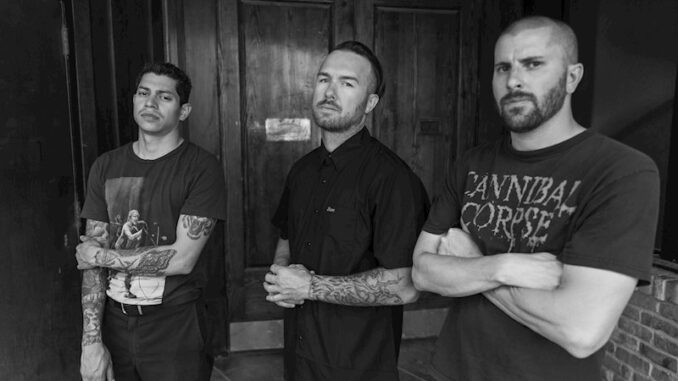 E.P. Review: Impending Doom - Hellbent
Reviewed by Paul Hutchings
I'll be the first to say that anything with the word 'core' tagged on the end usually gets me running in the other direction. However, the latest E.P. from Californian outfit Impending Doom kept me in my seat. Discovering that Impending Doom's style is also known as 'Gorship' in respect of their gore driven God reverence didn't fill me with joy but despite my total reluctance to consider anything in which religion is praised, this was a solid listen.
The band's last full-length 'The Sin and Doom Vol II' came out in 2018 and given the regularity with which Impending Doom have released music since their inception in 2005, it's about time they released something new. The cover for the E.P. is striking. Created by Jim Pavelec, an illustrator of occult, Sci-Fi and horror fantasy, it leaves no clue as to the content that you may be about to hear.
When the first track kicks in, the immediate thought is simply how heavy these guys are. 'Satanic Panic' is underpinned with a Slipknot 1999 era groove, with grinding guitars and bass, high level bass tension and a roaring performance from vocalist Brook Reeves, who is massively aggressive, his snarling roars intimidating.
The intense, crushing feel of each song is suffocating. 'New World Horror' and 'Crushing Death' are both bruising in their pulverising delivery. The pummelling drumming propels the track forward with a dynamism that few bands can capture. This is violence in aural form. The title track becomes even more punishing, with the relentless jack hammer riffing and Brookes' gargantuan roar both grabbing you hard. It's music that leaves you in a puddle, drooling.
By the time I arrived at 'I Must End', I admit I felt like I'd done a few rounds with a heavyweight boxer. This is weighty music although the cleaner vocals make it more nu-metal in parts and not something that for me enhanced any part of this record. There are patches of it where I could quite easily headbang, mosh or simply stand and watch. Thanks to the style of vocals, the lyrics aren't often clear, which makes any praise of the bloke upstairs limited.
Impending Doom aren't a band I'd make a beeline to listen to but the sheer power and energy of 'Hellbent' is such that I may be about to look up a bit more of that extensive back catalogue.