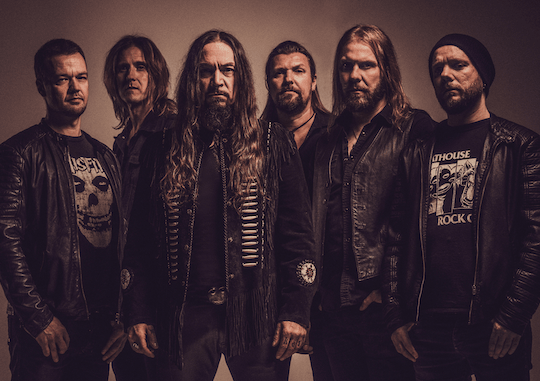 Album Review: Amorphis - Halo
Reviewed by Richard Oliver
Three words that always bring great joy to my life are 'new Amorphis album'. This is a band that, despite having been in existence since 1990, have a very unique sound that is unmistakably Amorphis and they nearly never fail to deliver both on the album front and in their stunning live performances. Even those albums derided as Amorphis' weaker efforts are still damn fine listening (as you can probably tell I'm a bit of a fan). With their fourteenth full length album Halo the band complete a loose trilogy of albums also made up of 2015's Under The Red Cloud and 2018's Queen Of Time.
Halo doesn't really bring forth any surprises if you have listened to anything released by Amorphis in the last fifteen years but simply manages to be the band firing on all cylinders and releasing some absolutely jaw dropping music. Amorphis have a sound that is tricky to categorise. It is music that is equally epic and dramatic as well as atmospheric and melancholic. It mixes elements of melodic death metal (with the band being one of the founders of the genre), folk metal as well as swathes of progressive elements. It can be sweetly melodic but heavy as hell usually in the space of a single song.
Halo is an album that feels a bit more stripped back and organic than its two predecessors with less overblown arrangements and the simple art of a killer hooky song. Hooks are in abundance throughout the album with some hugely melodic choruses which are guaranteed to be stuck in your head for days afterwards. The Moon and When The Gods Came are prime examples of earworms that may need to be surgically removed from my head. You also get songs with a bit more emphasis on darkness and heaviness such as Windmane and War as well as majestic epics such as Northwards and the title track. The band's mix of the heavy and melodic is emphasised by the incredible vocals of frontman Tomi Joutsen who effortlessly flits between gorgeous soulful cleans to deeply guttural death metal growls (and can do so effortlessly in the live environment).
Amorphis manage to knock it out of the park again with another incredible album. Arguably the most important Finnish metal band, Amorphis show no signs of wavering over thirty years into their career and Halo is testament to their skills as musicians and songwriters. Halo doesn't expand or enhance the core Amorphis sound but is simply the band at their peak doing what they do best.