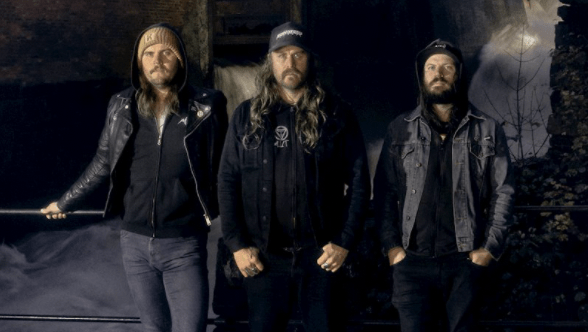 Album Review: Firebreather - Dwell In The Fog
Reviewed by Sam Jones
It's been a moment since I checked out some stoner/doom metal, particularly the variant that Firebreather champion herein. The band may be just a little over five years old but in that time they have released, come the day of this album's release, a total of three full length studio releases. Formed in 2016 from Gothenburg, Sweden, the band released their debut self-titled record a year later before following that up with their well-received 2019 opus Under A Blood Moon. Now, three years later and the longest gap between studio records as of right now, Firebreather are preparing once more to release another volley of stoner/doom that they have now made their identity three albums in. I was very excited for this record and am glad to now share my thoughts on it with you. This is Dwell In The Fog.
A punching drum performance is to be found within. A slight Mastodon vibe can also be picked up on considering how active the drums are, it's never just the standard drumming patterns but always something extra being thrown in. As a result the record never leaves us alone whether through riffs, boisterous vocals or the drums that practically punch their way into our attention. The drumming hasn't been accentuated in its volume nor has it been granted a more forward position in the mix, it's simply been provided a stronger kick via the production. The drums feel like they're playing quite close to you so when things do intensify a touch, it's extremely noticeable.
But the drums aren't the only thing that's pretty compact and sturdy; the same applies to the riffs too. Considering that Firebreather have for us a stoner/doom album, the guitar tone is prominent throughout the album. It isn't the kind to convey any dramatic quantity of fuzz, if anything this album is the complete opposite. There is some kind of lingering fuzz in the background but the general foreground is committed to providing us with a resolute and solid guitar sound that is able to convey its solid tone with ease. The drums and riffs coupled together create this massive soundscape that is capable of exuding its size without being labelled as anything akin to "crushing". It's an old school stoner/doom record in this respect in the same vibe of Kyuss, The Sword etc.
I enjoyed the vocals here. In contrast to the riffs and drumming, the vocals demonstrate a much raspier and coarse soundscape for us to latch onto. In a way it works for the album in the whole, as a more bellowing vocal delivery may have been a little too much and detracted from the instrumental power. So what we've got works for both parties within the mix, we're able to equally enjoy the vocals for what they are all the while the songwriting gives us riffs and drums that empower our experience and embolden the album's intrinsic sound. If anything the vocals fuse well with that background fuzz, the vocal timbre harnesses that familiar harshness that seems to underlie the makeup of the record's instrumentation.
Often a band may be criticised for keeping their pacing at a predominantly steady tempo, however for Firebreather it's really worked well to their advantage. Because their tone and instrumental persona is so acute and so in our face, they don't need to try and exert themselves too greatly because the soundscape is doing a lot of the work that a heightened tempo would otherwise be pulling off in other stoner/doom acts of this calibre. By utilising the sound they have with a steadier tempo they've ensured our attention is forever going to be on what is coming in the immediate moment as opposed to what could be crawling in the upcoming seconds. The songwriting is remarkably easy to follow and with just six songs in slew, raising the idea of longer tracks to experience, the band do a great job at maximising our enjoyment of this record. It may be a heavy ride but it's also extremely fun; this is a record that's bound to have you lip-syncing to the vocals and a wild grin across your face.
In conclusion, this is a roaring and eviscerating experience that can be had without feeling like you need to offer your skin as a sacrifice. You'll be able to experience the scathing and pounding moments this record has without baring any of the marks on your person. It's a heavy record that manages to exude its weight all the while demonstrating the fluidity and movement that keeps it from sinking under its own weight. If there's anything to be said regarding this record, it's that it's forever moving and churning and offering us songwriting that's exciting and never leaves us wanting. You'll want more by the time the record closes out, but only because of how enthralled in the album's personality you'll become. This was a blast and I'll certainly be wanting to hear more from Firebreather.