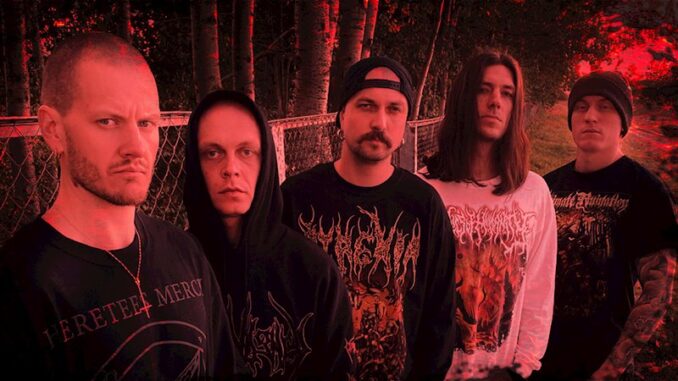 Album Review: Ominous Scriptures - Rituals of Mass Self-Ignition
Reviewed by Dan Phipps
Coming three years after the release of their sophomore record and first under Willowtip Records, 'Rituals of Mass Self-Ignition' is the new record from Belarus death metal act Ominous Scriptures. It continues seeing the band look to recreate the honest sound of classic brutal death metal with an extreme ungodly and blasphemous edge.
Rituals of Mass Self-Ignition a lot like its predecessor is focused on the darker side of brutal death metal. Where a lot of bands within the death metal genre have looked at offering a more slick heavily produced product, Ominous Scriptures l look at how they can execute their music, ensuring they are not losing that sinister edge to the sound, whilst ensuring it remains a clear sound. This is a tough task but what the band have brought to the table is very well executed. Now I listened to the bands prior release 'The Fall of the Celestial Throne' a few times upon its release and if I'm honest it really didn't do much for me, it wasn't bad but nothing to really get excited over.
 Now 'Rituals of Mass Self-Ignition' really gets me feeling more excited about what this band can create. Ominous Scriptures do not change much about what they do, but what they really hone in on that dark vibe within the music, it reminds me a lot of the California band Condemned once they moved into the more darker sound which was found on their last couple of full lengths. Honing in on that sound really has elevated the quality of the release. The guitars sound evil, the drums are both furious in sound but also very honest and not overly produced which is always extremely uplifting when listening to modern death metal releases.
If you're looking for a modern representation of early 2000's brutal death metal then 'Rituals of Mass Self-Ignition' has you covered. Right from the get go Ominous Scriptures showcase a really ferocious and dark record, the Belarus five piece produce eight tracks which combine the severity of Disgorge with the dark undertones of Incantation. If a real honest sound is what you are looking for then this record checks every box.