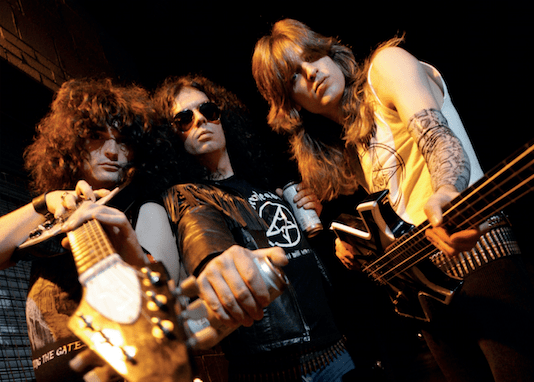 Album Review: Goat Horn - Voyage To Nowhere [Boxset]
Reviewed by Neil Bolton
A truly lovely and affectionate set of sleeve notes, from the illustrious Malcolm Dome, are housed in this impressive three cd, 36 track, deluxe package release. It also contains an old school band photo collage. Something obviously in honour of the bands that influenced them.
Goat Horn, who could easily have been named "Upside Down Cross" if the name had not already been taken, are a result of listening to bands such as Venom and Cathedral. They were formed in 1999 in Ontario before they relocated to Toronto. Their punk, "I can do this" attitude made them at odds with their peers; but this did not deter their spirit or will to succeed and forge music.
CD One contains the raw sound of Venom and the doom laden tones of their heroes Cathedral. The album opener 'Goat Horn' is smeared in doom metal, and it is crunchy from the outset. Brandon Wars introduces himself with a metal "Ohh Yeah", his vocal style is clean with a little dirt thrown in for good measure . The three piece carry out their duties with the basic but effective style of the debut albums of the bands they grew up listening to. It's metal and it's good. They make the head bob and foot tap with this uncomplicated style. Track 5 'Voyage to Nowhere' has achieved the rank of cult classic and its easy to hear why. I could use lots of adjectives to describe this tune to someone who may not know it but there is need for only one, METAL!
Four bonus tracks are added including a live version of 'Eternal Quest for Eternal Hope' and the three demos are a nice addition.
CD Two is obviously the second Goat Horn full length 'Storming the Gates'. Released in 2003 this sees a growth in their sound giving a smoother feel. The raw element has no way been left behind but the overall sound is just more accomplished. The bounce in Jason Decay's bass is amplified to pummel and groove the listener a little more.
There is a video to accompany the track 'Rotten Roll' which the band proudly claim cost $60 to create. This "we can do this" no gloss or sexy ladies style of video is a perfect metaphor for the music of Goat Horn. Rough round the edges and they don't care, the outcome is effective and fun. We have an excellent cover of Sacrifice's 'Re-Animation' contained in the album, and then a live cover of Helloween's 'Heavy Metal (Is The Law)' tops off this sophomore album.
CD three is the E.P. 'Threatening Force' that came out in 2006. The production on this E.P. is even more crisp, but in no way deters from the abrasive charm of this band. Two tracks from the previous album are given a lick of paint and drummer Steelrider seems to be having the time of his life, frantically and precisely beating the skins with flare and technique. There seems to be a more of a polish to this recording, but this in no way destroys any of the charm this band have created in their short but important career.
This is a nice collection of music from Goat Horn from 2001-2005. Dissonance Productions along with Cherry Red Records have created a must own package for anyone who is a fan, or anyone who thinks they might become a fan, to seek out and buy.