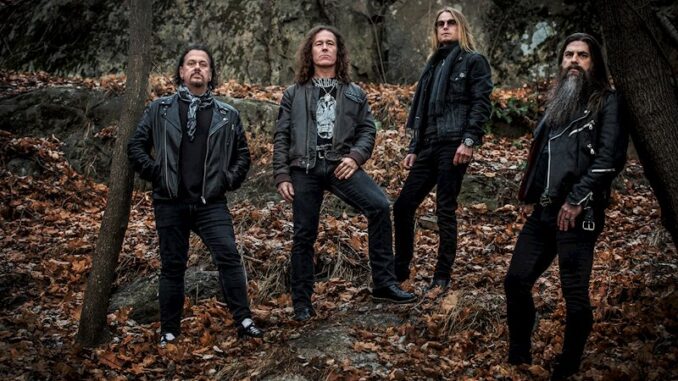 Album Review: Wolf - Shadowland
Reviewed by Neil Bolton
For over twenty five years now Swedish metal legends Wolf have been entertaining the heavy metal masses. 'Shadowland' is the band's ninth studio release, containing eleven old school tracks for fans of NWOBHM all over the world. Led by the talents of vocalist/guitarist Niklas Stalvind the band once more prove they have the legs and power to leap into another quarter century. Bassist Pontus Egberg (King Dimond) and drummer Johan Koleberg (ex-Therion, ex-Lion's Share) have remained since joining on their last album 'Feeding The Machine'. Riffing stalwart Simon Johansson carries on his guitar duties providing a solid foundation for the rock/metal on show.
If you have ever had the pleasure of witnessing the live spectacle of a Wolf show, you will be in no doubt of the fire and fury they can bring to their music.
The opening track from this album demonstrates just that, 'Dust' is a rip roaring heavy metal box of fun and power. A box that is desperate to open and reveal its contents to the rocker in all of us. Sticky riffs rides the air waves forcing the listeners hands to form the shape of the devil horns while sitting back being cleansed by old school metal; the world is a calmer place with Wolf. The guitar work is playful and on point all the while the drums thrash away never stealing the show, but never fading into the background either.
'Visions for the Blind' thankfully continues this trad onslaught with more punishing metal riffs to grab hold of. A sing along chorus bounces onto the horizon before a shedding solo complements the leather clad atmosphere. The title track 'Shadowland' already released as a single has punch in its delivery, coupled with an anthemic feel making this ready for the live stage.
Crunchy memorable riffs and tunes litter this album from its outset to conclusion. It is fun and an essential for any fan of traditional heavy metal. The NWOBHM sound at no stage feels dated, and there is never a sense of a band just treading water.
This is balls out good time heavy metal.